CATIE and SENACYT sign scientific and technological collaboration agreement
Posted by

Categories

News

Date

14 October, 2022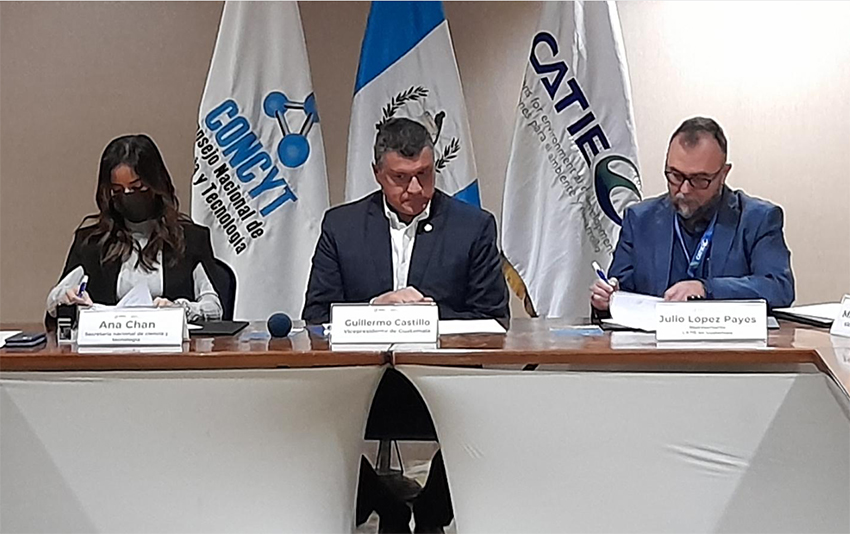 The signing of this agreement opens a space for collaboration to generate contributions within the framework of the national science and technology system.
October 13, 2022. Guatemala's National Secretariat of Science and Technology (Senacyt, its Spanish acronym), in its mission to promote the generation and use of science, technology and innovation to build spaces for collaboration between the academic, public, productive and civil society sectors, thus promoting the country's development. Within this framework of collaboration, the secretariat signed an agreement with CATIE (Tropical Agricultural Research and Higher Education Center), with the objective of establishing technical cooperation between the parties to join institutional efforts and carry out activities to encourage training with a scientific and technological approach.
The agreement was signed by Julio López, CATIE's representative in Guatemala, and Ana Chan, Secretary of Senacyt. Guillermo Castillo, Vice-President of Guatemala, was a witness of honor, and Muhammad Ibrahim, Director General of CATIE, and Juan Carlos Méndez, Deputy General Director of the Center, were virtual witnesses. The event was also attended by researchers from the National Council of Science and Technology (Concyt, its Spanish acronym).
López, as a preamble to the signing of this agreement, gave a talk on knowledge management and research as strategic contributions to rural development, which aimed to present the main related elements and opportunities to contribute to rural development in Guatemala, as well as CATIE's potential contributions.
After signing the agreement at CATIE headquarters in Costa Rica, Ibrahim and Méndez emphasized the Center's commitment to the country, highlighting the opportunity to cooperate with Senacyt in research and human capital formation processes, in order to generate important impacts on issues such as rural development, based on research, technology and education.
For Chan, a key issue is the opportunity to promote quality research in Guatemala. "I believe that our efforts should be focused on the existence of quality scientific provision in Guatemala; therefore, the challenge is to establish how we can ensure that the knowledge generated by academia can be perceived and used in a better way and, therefore, applied in a sustainable manner, and how this knowledge can be translated into more understandable terms so that every citizen in their communities and territories can use it to transform realities or to improve living conditions in their communities," said the Secretary.
Vice President Castillo expressed his satisfaction with this cooperation mechanism because he is sure that the objectives that have been considered will be met and that results will be achieved; he also stressed the importance of participatory research, which is fundamental for the participation of rural producers and their families.
The cooperation agreement signed will be valid for three years.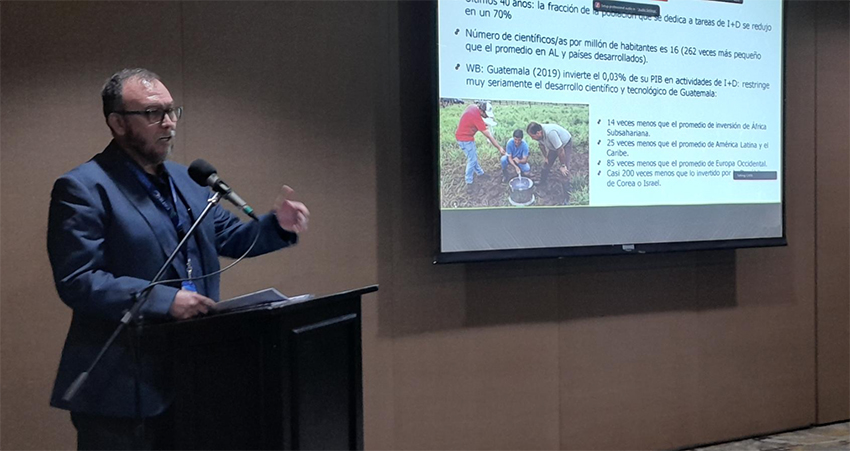 More information:
Julio López Páyes
Catie Representative in Guatemala
jlopez@catie.ac.cr
(Visited 110 times, 1 visits today)