Has been a member of CATIE since 1983, but even before that date, CATIE had developed actions in the country that gave a timely, coherent and innovative response to demands and needs at different levels.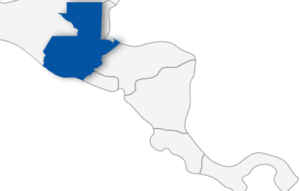 Relevant CATIE projects or actions in Guatemala
National Nutrition Information Platform (PiNN): With support from the European Union, CATIE and SEAN are working to strengthen the National Food and Nutrition Security System (SINASAN). Likewise, the municipality of Momostenango has been established as a pilot site to develop multisectoral information and knowledge management processes for the prevention of malnutrition and to improve food and nutritional security.
Climate-smart livestock production systems: Consists of strengthening national capacities related to the development of the national REDD + strategy and the implementation of climate-smart production systems based on silvopastoral systems in livestock farms in 15 municipalities in the southeast of Guatemala (CATIE- UNDP).
Knowledge management for the innovation of sustainable rural development in Guatemala: In this manner, family agriculture and the peasant economy are strengthened (CATIE- MAGA-NORUEGA).
Territorial co-management for the conservation and sustainable management of the Acatenango-Fuego, Cerro Sanay and Montaña El Socó volcanic complex: It is executed by CATIE-FCA, in coordination with the area's municipalities and public and private strategic partners.
Promotion of the Management of the Trinational Ecosystem of the Maya Forest-Mexico-Belize- Guatemala: It is a collaborative work between CATIE and the institutions responsible for the management of natural resources and protected areas in the three countries, with the financial support of the IDB / Public Goods Regional.

Offer of value for the country
CATIE is able to support the country in the following areas: knowledge management, human resource training, rural development, rural extension, family farming, food and nutritional security, agroecology, agroforestry systems with coffee and cocoa, sustainable intensification of the livestock, sustainable forest management, adaptation / mitigation of climate change, water security and information platforms for comprehensive territorial approach, among others.
Graduate Training
Since its inception in 1943: 148 master's and doctoral graduates (123 men and 25 women)
Current students: 9 (6 men and 3 women)
From 2014 to date
9638 families trained
2847 professionals and technical personnel trained
675 volunteer promoters trained
The impact of our actions is enhanced thanks to an extensive network of partners from various sectors. Since it began activities in Guatemala in the mid-1970s, CATIE has formed strategic alliances with more than 100 partners, both from the public and private sectors, as well as local governments, academia, national and international cooperation, community groups, rural producers and their organizations.
More information:
Julio López Payés
CATIE Representative in Guatemala jlopez@catie.ac.cr
(Visited 647 times, 1 visits today)