CATIE shared experiences to promote sustainable livestock farming in Cuba
Posted by

Categories

News

Date

19 October, 2022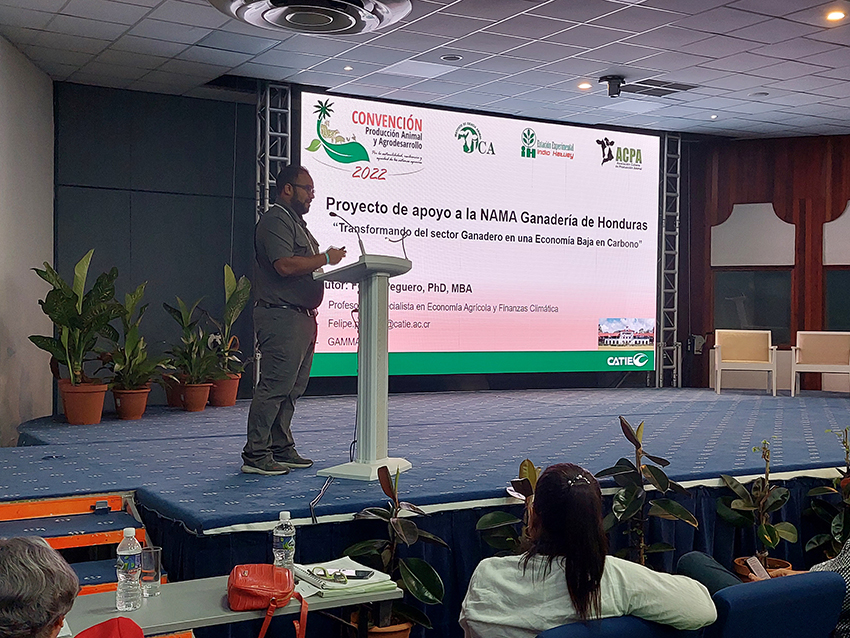 Researchers from the Livestock and Environmental Management Unit participated in the Animal Production and Agro-development 2022 Convention, held in Cuba.
October 19, 2022. From October 10 to 14, Cuba held its Animal Production and Agro-development 2022 Convention, with the purpose of motivating the exchange of experiences and results in tropical animal production systems, their technical, economic, environmental and social sustainability and strategies for the improvement, conservation, utilization and characterization of natural resources. Under this approach, researchers from the Livestock and Environmental Management Unit of CATIE (Tropical Agricultural Research and Higher Education Center) participated in this convention and shared their experiences to promote sustainable livestock production.
Researchers Felipe Peguero and Andrés Vega made contributions in the Nationally Appropriate Mitigation Actions (NAMA) panel, where they emphasized CATIE's efforts to support the formulation and implementation of different NAMAs in the region, for example, the livestock NAMA in Honduras and Costa Rica. In addition, they talked about low carbon technologies, prioritized in the Nationally Determined Contributions (NDC) and their impacts, showing information from Mexico, Belize, Guatemala, Nicaragua, Panama and Dominican Republic, as well as the efforts that have been carried out to scale up mitigation and adaptation interventions in Guatemala, Costa Rica, Panama and Dominican Republic.
Milagro Milera, researcher at the Indio Hatuey Experimental Station, praised CATIE's experience and track record in the formulation of NAMAs in the region and acknowledged the support that the Center has provided to Cuba in the formulation of its National Strategy for Sustainable Livestock Production.
On the second day of the convention, researcher Cristóbal Villanueva participated in the II International Symposium on Tithonia diversifolia in Agricultural Production Systems, where he presented the use of Tithonia diversifolia as a protein supplement and its effect on the reduction of nitrogen in animal urine.
On the third day of the event, researchers Edwin Pérez and José Antonio Jiménez participated in the panel entitled Innovation, Territorial Development and Social Equity. In this panel, they presented experiences of the Biodiversity and Sustainable Agro-silvopastoral Livestock Landscapes project, known as BioPaSOS, which is implemented in territories of three Mexican states. The first experience was about how sustainable livestock farming was promoted, and the second about the Field Schools as a strategy to strengthen the capacities of livestock-producing families.
CATIE was also invited to a round table with the Institute of Animal Science (ICA, its Spanish acronym) to identify potential collaboration opportunities.
Finally, on the closing day, CATIE participated in the panel on Biostatistics, Bioinformatics and Socioeconomics, where Peguero and Vega presented the GAMMA tool, used to measure greenhouse gases (GHG) on livestock farms, and the mathematical-financial model to evaluate profitability and climate risk on livestock farms.
The convention had more than 450 contributions from specialists, researchers, professors, students, breeders and producers from 18 countries, related to animal production and the development of agricultural systems.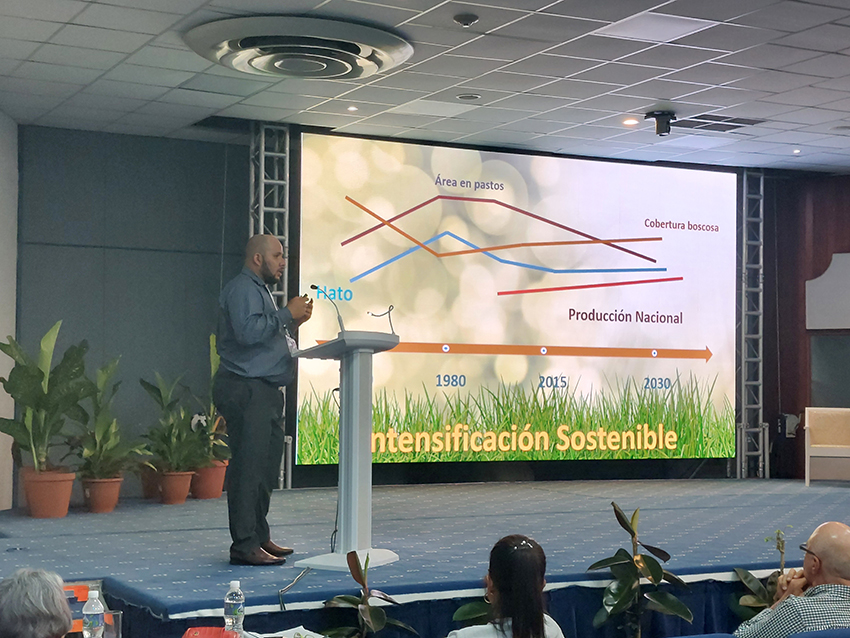 More information:
Felipe Peguero, Ph.D.
Specialist in Agricultural Economics and Climate Finance
Livestock and Environmental Management Unit
CATIE
Andrés Vega
Researcher
Livestock and Environmental Management Unit
CATIE
Written by:
Karla Salazar Leiva
Communications Officer
Information Technology and Communication
CATIE
(Visited 258 times, 1 visits today)