National Lottery pays tribute to CATIE on its 50th anniversary
Posted by

Categories

News

Date

31 May, 2023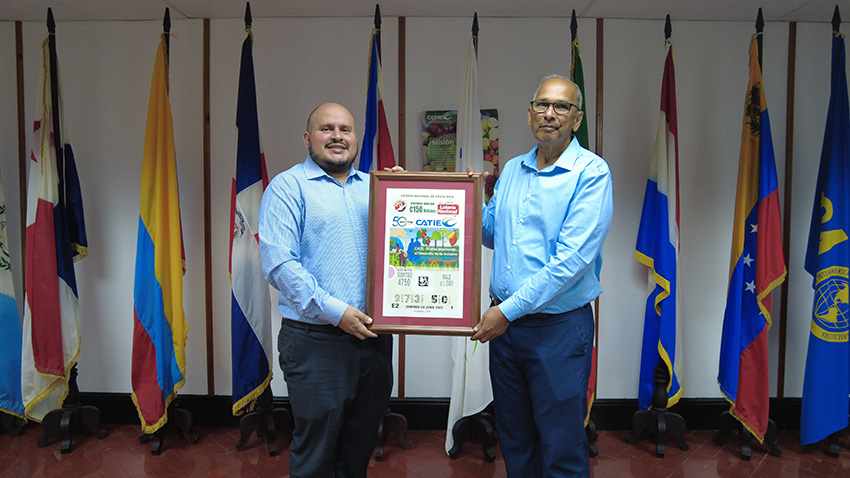 Design seeks to share with the country the three pillars on which the institution's work is based: education, research and projection
May 30, 2023. Costa Rica's Social Protection Board (JPS, its Spanish acronym) officially delivered a large-format lottery ticket, similar to the one currently sold throughout the country, which pays tribute to the 50th anniversary of CATIE (Tropical Agricultural Research and Higher Education Center).
The delivery was made by Ricardo Solano Avila, director of the board of directors of the JPS accompanied by the presidential advisor, Juan Carlos Rojas Conde. Both officials traveled from the headquarters in San José to the institution's campus to share the commemorative ticket, which will be played this Sunday, June 4.
"For the Board it is an honor for CATIE to appear today in our national lottery because we understand very well the significance of its work not only for the country but for the region. Its commitment to issues such as sustainable development and its drive to collaborate in the reduction of poverty shows us that this 50th anniversary celebration is of great importance," said Solano.
For his part, the general director of CATIE, Muhammad Ibrahim, thanked the Social Protection Board for their help in making the 50th anniversary commemorative ticket a reality and made clear his admiration for this entity for the diversity of products and assistance they provide at the national level, but also for the transparent way in which they manage their programs.
"CATIE has an objective to work in science and education, but the fact that we have our roots in the canton of Turrialba, in Costa Rica, also guides us as you to work on social and environmental responsibility in which our commitment to the community is very high. An example of this is the recent delivery of more than 20 million colones to social welfare institutions in the canton as a result of the International Fair, where many people will benefit in their quality of life," said the general director.
"We will continue to promote the purchase of the lottery, because we know that these profits go to institutions that provide support to different populations and that CATIE, like you, struggles to improve living conditions regardless of where they are, whether in a home for the elderly or for children, and this is achieved with an institution as laudable as the Social Protection Board," said Margarita Alvarado, head of the Human Development Department.
The lottery ticket has already gone on sale and will be played this Sunday, June 4 at 7:00 pm. Its design seeks to share with the country the three pillars on which the institution's work is based: education, research and projection.
The opportunity to participate in the national lottery is part of the activities planned to commemorate the 50th anniversary of the institution, so the CATIE community is encouraged to purchase the ticket and thus contribute to the work done by the Board and its projection with the community.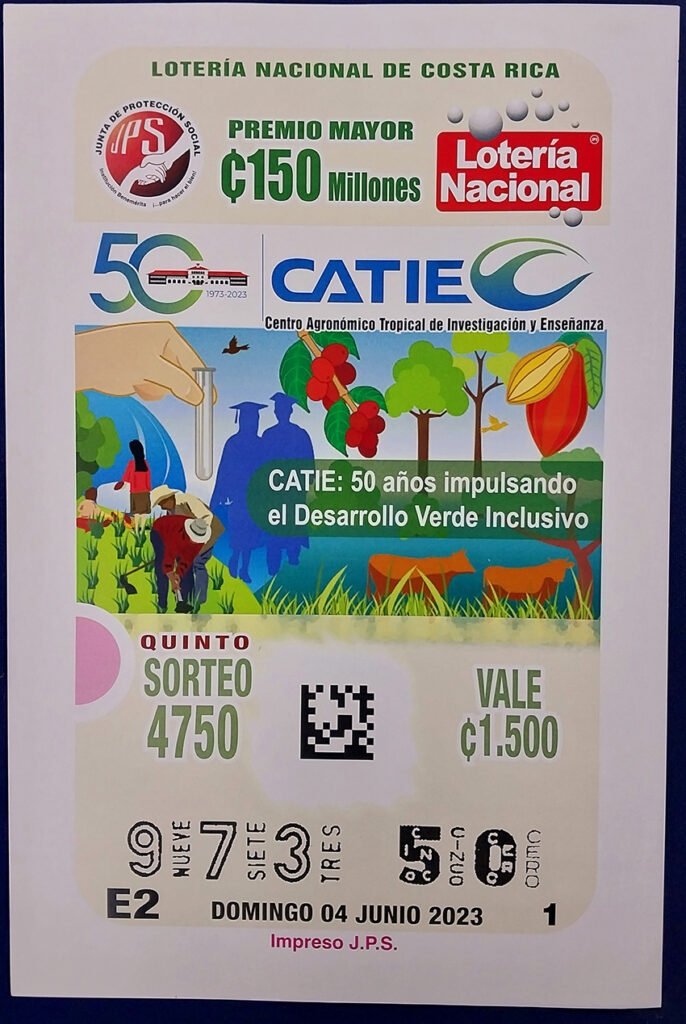 Written by:
Esteban Rodríguez Zamora
Communicator
Information Technology and Communication
CATIE
(Visited 192 times, 1 visits today)