The Miley González Scholarship Fund for Indigenous Peoples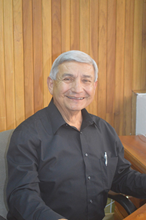 Dr. I. Miley González (1946-2020) spent nearly five decades of his distinguished career serving rural students and communities, in the United States and globally, working in higher education and his country's government. In addition to serving as Deputy Director General of CATIE, Director of Education, and Dean of the Graduate School, he held extension, teaching, and administrative positions at the state universities of Pennsylvania, Iowa, New Mexico, and Montana, as well as at the University of Arizona.
He was a true gentleman who radiated enthusiasm, joy, and goodwill and worked tirelessly to help his students succeed. Thanks to his support, CATIE began the series of "Henry A. Wallace" International Scientific Symposiums and established the "Wallace Scholars" scholarship program. He championed higher education opportunities through America's minority-serving institutions, including historically black, Hispanic, and tribal colleges. Dr. González led the cooperative relationship between CATIE and historically black American agricultural universities. He was a member of the White House Commission on Hispanic and Native American Excellence in Education and served for more than 15 years on the leadership team of the Hispanic Association of Colleges and Universities of the United States Department of Agriculture ( USDA).
From 1997 to 2001, Dr. Gonzalez served as the USDA Under Secretary for Research, Education, and Economics, overseeing the Agricultural Research Service, the Economic Research Service, the National Agricultural Statistics Service, and the Cooperative State Research Service, Education and Extension. Subsequently, he served for four years as Secretary of Agriculture for the State of New Mexico. Hispanic Business magazine recognized him as one of the 100 most influential Hispanics in the United States.
During his early life, Dr. Gonzalez raised cattle and crops in southeastern Arizona, worked on a cattle ranch in Venezuela, and managed farms in northern Mexico. He spent three years as a vocational agriculture teacher at a high school in Avondale, Arizona, and on a Native American reservation in Parker, Arizona.
The Trust
A trust will be created in memory of Dr. González to ensure a scholarship for perpetuity so that each year a student from the indigenous peoples of Latin America can pursue a master's degree at CATIE's Graduate School.
Cash donations and future payment commitments of up to 5 years will be received to reach the goal of $500,000.
How to make contributions to him?
Make an international bank transfer to: Download the information here 
Make a national bank transfer to: Download the information here
Make a donation online: (PayPal)
Note: If you are interested in offering a future payment commitment, please contact Carlos Araya at carlos.araya@catie.ac.cr for more information.
(Visited 688 times, 1 visits today)