CATIE researcher contributed to the chapter on Central and South America of the IPCC 2022 Report
Posted by

Categories

News

Date

10 November, 2022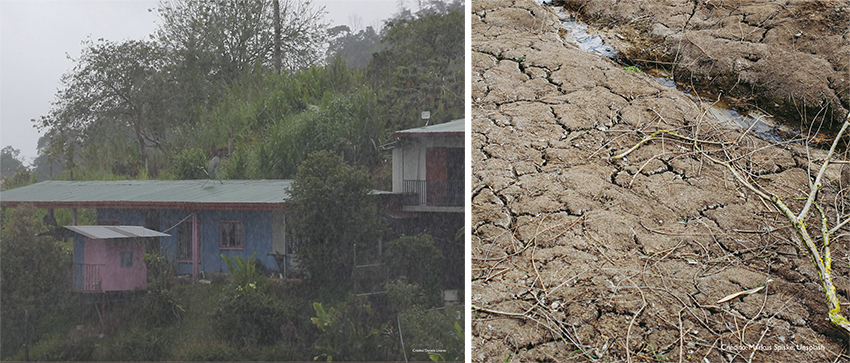 COP 27 will be held from November 6 to 18 in Egypt with the participation of dozens of countries, including Latin American countries.
Thursday, November 10, 2022. The Report of the Intergovernmental Panel on Climate Change (IPCC) is prepared by hundreds of scientists who participate on a voluntary basis as lead authors or contributors, in order to complete a report that encompasses the required expertise on climate change issues.
Thus, in the IPCC's sixth assessment report on climate change for 2022, corresponding to working group II, which addresses the issues of impacts, adaptation and vulnerability, Eduardo Pacay, researcher of the Environmental Economics and Sustainable Agribusiness Unit (UEAAS/EfD) of CATIE (Tropical Agricultural Research and Higher Education Center) participated in the report.
The CATIE researcher contributed as a contributing author to Chapter 12 of the Report, which covers the corresponding information for South and Central America.
The Report takes on importance at this time as the 27th Conference of the Parties to the United Nations Framework Convention on Climate Change (COP 27) is being held in the city of Sharm El-Sheikh, Egypt. It brings together hundreds of people representing the world, including representatives from Latin American countries.
Contribution provided
Eduardo Pacay indicated that his contribution to the document consisted of a literature review and systematization of scientific evidence, which followed the guidelines and standards required by the IPCC.
The review focused on the impacts of climate change on agriculture in Central America, as well as on the adaptation measures implemented by the public, private and community sectors to reduce the effects of climate-related disasters in Central and South America.
Since the process for the preparation of each IPCC assessment report involves dozens of researchers over a long period of time, the work done by the UEAAS/EfD researcher was carried out over a three-month period in 2019.
Some facts about Central and South America
With a length of more than 3,000 pages, chapter 12 of the IPCC Assessment Report talks about Central and South America. In dozens of pages, topics such as the main impacts and risks, hazards and vulnerabilities, as well as adaptation issues, among others, are presented. In addition, it is illustrated with case studies from Ecuador, the Amazon region, Peru and Guatemala.
Eduardo Pacay shared that both Central and South America continue to be highly exposed, vulnerable and heavily impacted by climate change.
"This situation is amplified by inequality, poverty, population growth and land use change, which generates biodiversity loss, and high dependence of national and local economies on natural resources," Pacay explained.
In addition, the researcher expressed that adaptation strategies for terrestrial and freshwater ecosystems, as well as for agricultural production, are increasing in the region in response to current and projected climate changes, with ecosystem-based adaptation being the most common adaptation strategy.
Importance of the report
For Eduardo Pacay, these types of reports are important because they provide a scientific basis for decision-making by governments, organizations and society in general, as well as contribute to the formulation of policies, programs or interventions based on science, which is fundamental for proposing effective actions to mitigate and adapt to climate change.
For more information, please access the report in English at the following link: https://report.ipcc.ch/ar6/wg2/IPCC_AR6_WGII_FullReport.pdf
More information:
Eduardo Pacay
Researcher
Environmental Economics and Sustainable Agribusiness Unit (UEAAS/EfD)
CATIE
Written by:
Marianela Argüello L.
Communication and Knowledge Management Officer
Environmental Economics and Sustainable Agribusiness Unit (UEAAS/EfD)
CATIE
marguello@catie.ac.cr
(Visited 167 times, 1 visits today)