Global experts analyze drivers for a more sustainable and resilient livestock future
Posted by

Categories

News

Date

14 September, 2023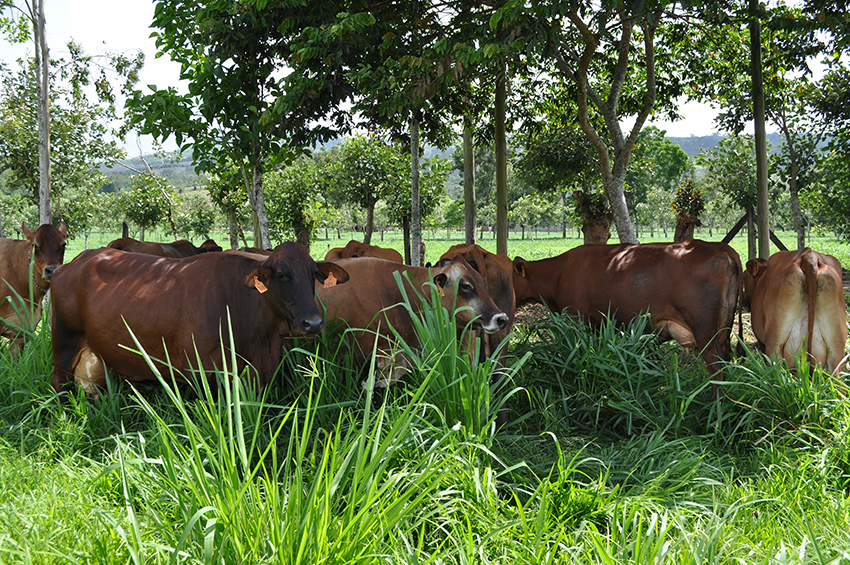 The cycle of webinars on sustainable livestock organized by GASL and CATIE has successfully concluded..
September 14, 2023. Through a series of webinars, the Global Agenda for Sustainable Livestock (GASL), with technical support from the Tropical Agricultural Research and Higher Education Center (CATIE), addressed fundamental global challenges facing livestock. Together, they proposed promising solutions to strengthen the sustainability and resilience of livestock systems.
These events, held on September 5, 7, and 11, aimed to demonstrate and understand the key drivers of change affecting livestock systems and their implications for sustainability and resilience at regional and global levels. The series consisted of three webinars.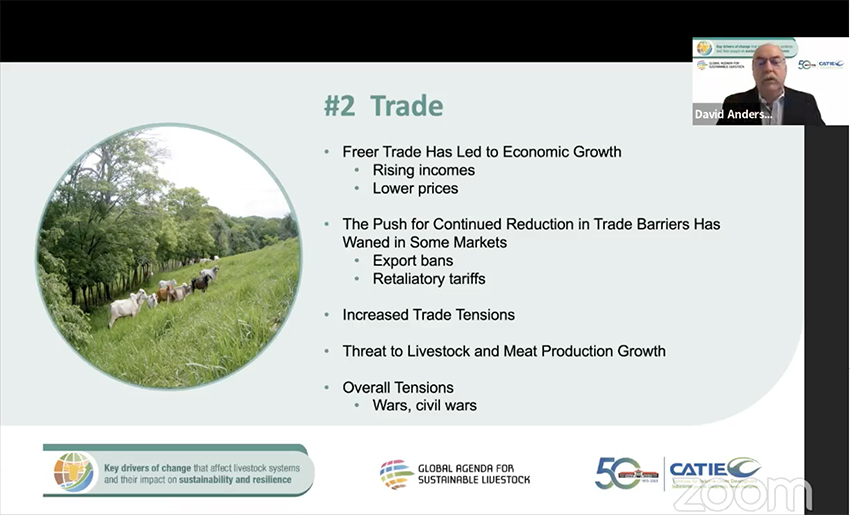 The first webinar focused on environmental and technological innovation drivers that are transforming the landscape of livestock systems. It highlighted how technological innovations are shaping new products, such as plant-based and lab-cultivated meat, redefining industry practices and impacts. Emphasis was also placed on the importance of collaboration among multiple stakeholders to enhance the sustainability and resilience of livestock systems in response to these drivers of change.
Among the main environmental drivers are land use change, climate change, resource scarcity, and increasing climate and environmental variability. This generates pressure on prices, access to environmental and supply chain resources, competition for resources, and disease pressure. This highlights the exposure and impact on the resilience of sustainable livestock, with repercussions on food systems, livelihoods of livestock producers, production, economic growth, as well as animal welfare and health.
Regarding technological innovation drivers, aspects ranging from advances in animal genetics to digitization and process automation were identified. These drivers can drive significant improvements in productivity, efficiency, and sustainability in livestock agriculture. However, not all drivers are necessarily positive, as some can exert negative pressures, such as increased meat demand, which can contribute to deforestation. To address these pressures, it is essential to adopt a balanced approach that promotes sustainable technologies. This involves fostering investment in genetic research to improve the quality of livestock breeds while promoting the production of alternative proteins and applying environmental monitoring technologies to reduce negative impacts on ecosystems. Regulation and collaboration between sectors are also key to ensuring that technological innovation in livestock agriculture benefits both the industry and the environment.
This webinar underscored the need for collective dialogue and reflection on the challenges and opportunities presented by these drivers of change in the livestock sector. The collaboration of diverse actors and the adoption of technological and environmental innovations that allow the sector to move towards greater sustainability and resilience, benefiting both the industry and the environment.
In the second webinar, on health and diseases, the socioeconomic impacts of emerging diseases, primarily in pigs and poultry globally, were identified. It also addressed the misuse of antibiotics and dewormers in livestock and the risks to public health, production costs, and market implications. The relationship between drivers of intensification, trade, and climate change with livestock production systems and the landscape was examined.
Furthermore, it was highlighted that livestock health has a direct impact on family livelihoods, a country's economy, human health, and the environment. Therefore, collaborative actions at the local, national, and global levels are required to control and eradicate diseases and poor health practices. "Livestock activities need to be viewed comprehensively to identify implications for society, biodiversity, adaptation, and mitigation of climate change. In addition, traceability systems need to be implemented in countries to increase confidence in market products," as stated in the conclusions of webinar two.
Finally, the third webinar concluded that socioeconomic and geopolitical factors are creating challenges and opportunities in the livestock system. The understanding of these factors differs among stakeholders, as does their response and actions. Generally, large livestock companies take proactive measures to leverage changes in socioeconomic and geopolitical factors. On the other hand, policymakers in developing countries react too slowly to these changes due to the weakness of their institutions. Likewise, producer associations do not actively participate in discussions about how socioeconomic and geopolitical changes affect the livestock sector.
Additionally, this webinar highlighted that producers are transitioning to more sustainable livestock systems. Therefore, alternative solutions should continue to be sought to further improve productivity and profitability, transferring and financing technologies and practices that result in decarbonization and adaptation.
These webinars, held in the context of the celebration of CATIE's 50th anniversary, featured the participation of GASL members, stakeholders, and actors working in sustainable livestock, including governments, non-governmental organizations (NGOs), the private sector, academia, research centers, international organizations, civil society, livestock producers, and consumers.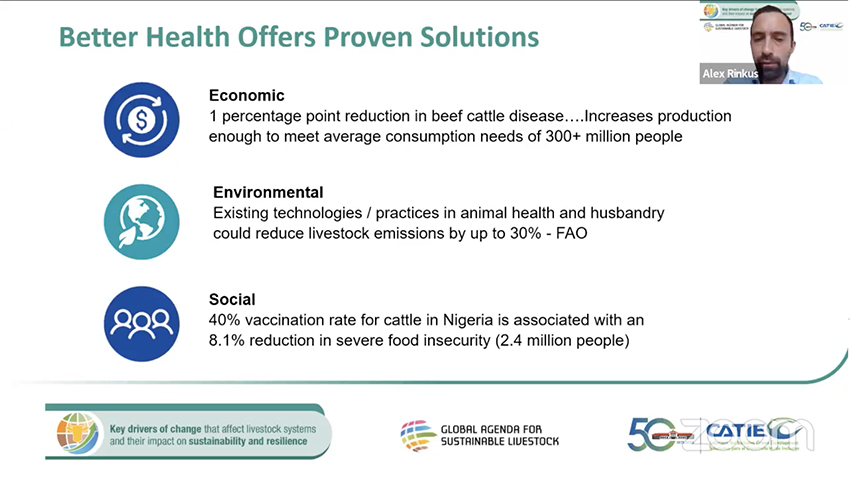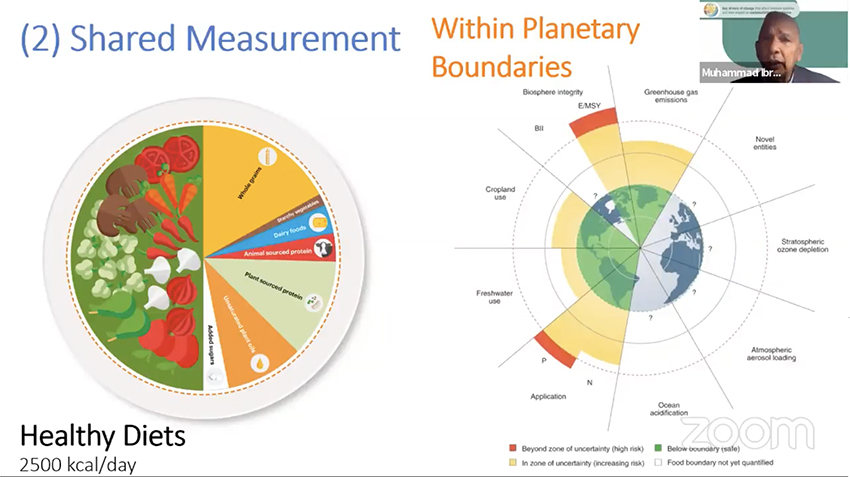 About GASL
GASL works as a collaborative platform that seeks to promote sustainability in the livestock sector through knowledge exchange, collaboration among stakeholders, and the development of joint solutions. Members and participants can vary by region and specific areas of interest within the livestock value chain.
About CATIE
CATIE is an international center for innovation and sustainable development in agriculture, management, conservation, and the sustainable use of natural resources. In its work, it combines education, research, and external outreach to increase human well-being and reduce rural poverty. Its area of influence is the Latin American and Caribbean region, being a leader in the integrated management of agriculture and natural resources to address global challenges.
(Visited 114 times, 1 visits today)