Minister of Agriculture of Guyana visits CATIE with IICA delegation
Posted by

Categories

News

Date

16 June, 2022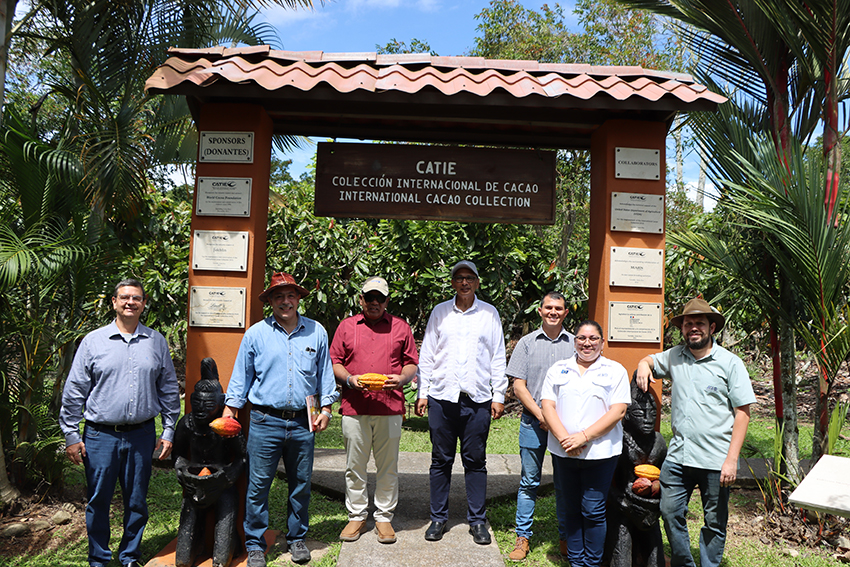 Inter-agency collaboration between countries could promote training, research and agribusiness.
16 June 2022. Zulfikar Mustapha, Guyana's Minister of Agriculture, on Wednesday visited the CATIE (Tropical Agricultural Research and Higher Education Centre) campus accompanied by Wilmot Garnett, who is the representative of the Inter-American Institute for Cooperation on Agriculture (IICA) in Guyana, and Breno Tiburcio, Deputy Chief of Staff, in addition to Kenneth Solano, agribusiness and project management specialist and Gabriela Gomez, regional assistant for the AGROINNOVA project jointly coordinated by IICA, CATIE and the European Union.
The visit started with a formal meeting between Minister Mustapha and Muhammad Ibrahim, Director General of CATIE. This was followed by a tour of some of the research areas of the Centre where they met the technical team and the work they do.
The first station was in the goat module, which is part of the AGROINNOVA project that seeks to reduce food security problems in the Central American Dry Corridor. This work promotes adaptation and mitigation to climate change in the tropics, animal health practices, as well as the generation of by-products such as yoghurt and fresh cheese.
Afterwards, the forest seed bank was visited, to learn first-hand about its activities in the production and marketing of forest seeds and now, as a new commercial activity, how F1 hybrids of coffee are produced and how improved species are produced, resistant to diseases such as rust. The tour continued in the cocoa laboratory where the phases of the process were shown, the separation of the different species, which are used for a better quality, aroma and body of the chocolate, and a walk to the coffee and cocoa collections to learn about the whole process of the work in the conservation of germplasm, as the basis of CATIE's genetic improvement programmes.
The tour included a visit to CATIE's dairy farm, and here the Livestock and Environmental Management Unit showed the good practices with which they work, both with livestock feeding, with silvopastoral systems and with appropriate waste management that includes saving water and reuse of waste, which are used as fertilizer, as a whole these practices reduce carbon emissions and also produce more milk and better quality.
The visit concluded in the botanical garden with a tour among the medicinal and fruit species that are part of the scientific research and in celebration of the day of the tree, the guests and the technical team carried out a tree planting with fruit, forest and ornamental species.
Minister Mustapha said, he was very impressed with the work being done by CATIE and highlighted the vast possibilities of working together with the Government of Guyana to promote research and agribusiness; in addition to the training of Guyanese at CATIE's graduate school.
Ibrahim mentioned, "I am very pleased with the visit of the Honourable Minister and colleagues from IICA which strengthens the joint work for science, research and inclusive green development."
Video: https://youtu.be/DoLJjoRIvkc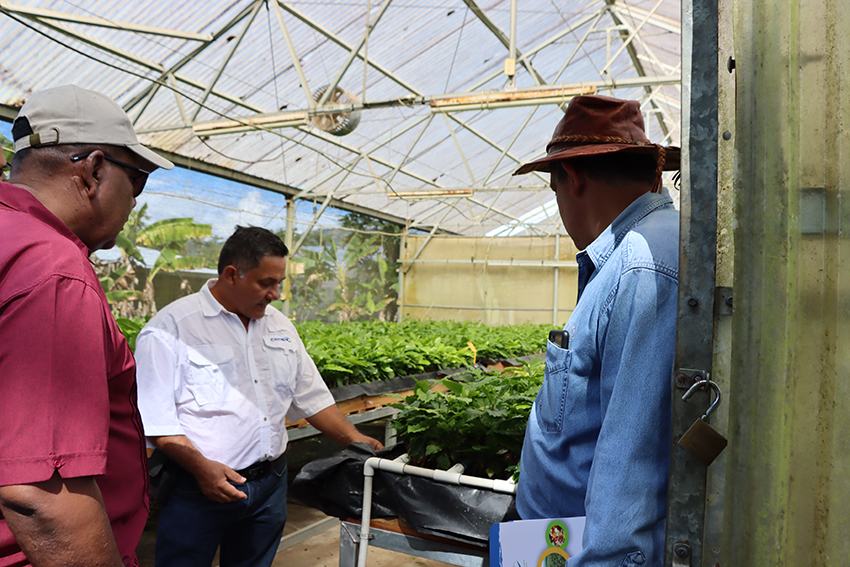 More information:
General Direction
CATIE
dg@catie.ac.cr
Written by:
Zeidy Hidalgo
Strategic Communications Coordinator
zeidy.hidalgo@catie.ac.cr
(Visited 159 times, 1 visits today)