Updating of food and nutrition security information systems in Guatemala underway
Posted by

Categories

News

Date

20 June, 2022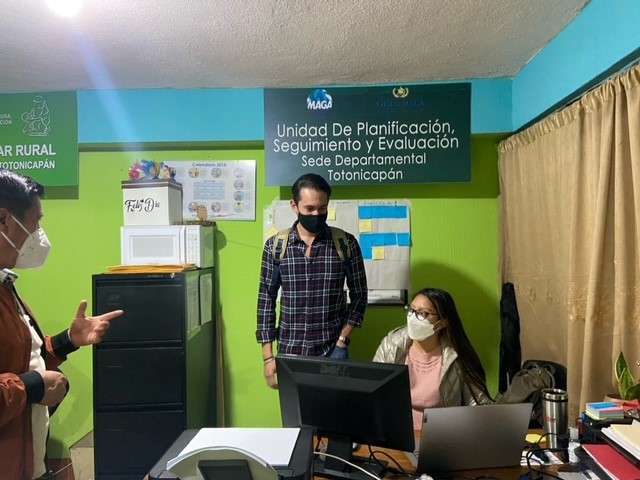 This through the National Nutrition Information Platform Project (PiNN), executed by CATIE, in coordination with SESAN.
16 June 2022. In the department of Totonicapán, Guatemala, the technical team of the National Nutrition Information Platform Project (PiNN), executed by CATIE (Tropical Agricultural Research and Higher Education Center), held a series of meetings with officials from different institutions, including the Departmental Directorate of Education (DIDEDUC) of the Ministry of Education (MINEDUC, its Spanish acronym); the Health Area Directorate (DAS) of the Ministry of Health and Social Assistance (MSPAS, its Spanish acronym); the Ministry of Agriculture, Livestock and Food (MAGA, its Spanish acronym) and the Ministry of Social Development (MIDES, its Spanish acronym), in order to have updated information in the Departmental (SIDESAN, its Spanish acronym) and Municipal (SIMSAN) Food and Nutritional Security Information Systems.
According to Juan Diego Chang, PiNN Project statistics specialist, the meeting with DIDEDUC resulted in the advancement of knowledge management and information on departmental data related to education statistics and interventions on improving child nutrition under the School Feeding Law.
At the meeting with DAS officials, commitments were made to update information for the year 2021 and the first quarter of 2022 on anthropometric, vaccination, Acute Respiratory Infections (ARI), Foodborne Diseases (FBD), anemia in children and women, deworming and micronutrient supplementation of children, as reported by Gabriela Ogaldes, nutrition specialist of the PiNN Project.
Finally, Ogaldes pointed out that important commitments were reached with MIDES regarding the updating of SIDESAN data on social protection.
Hugo Diego Rivas, PiNN Project data management specialist, indicated that in the MAGA meeting agreements were reached with the Rural Extension Unit and the Planning Unit on data management of Learning Centers for Rural Development (CADER, its Spanish acronym), family farmers, School Feeding Program (PAE) suppliers, sales of family farming to the PAE and market prices of products, among others, from 2021 to 2022. This meeting was accompanied by Esaú Guerra, departmental delegate of the Secretariat of Food Security and Nutrition (SESAN).
The PiNN Project is an initiative funded by the European Union, which aims to strengthen food and nutrition security governance.
(Visited 246 times, 1 visits today)