Project BioPaSOS leaves evidence of sustainable cattle ranching that manages and conserves biodiversity in Chiapas
Posted by

Categories

News

Date

8 December, 2022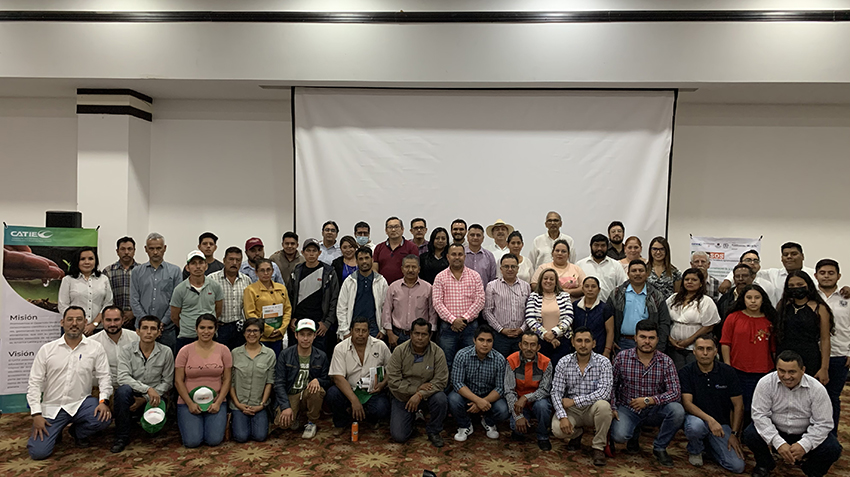 After 6 years of implementation, the project has laid the foundations for this Mexican state to continue promoting livestock farming in harmony with the environment.
December 6, 2022. The Biodiversity and Sustainable Agro-silvopastoral Livestock Landscapes project, known as BioPaSOS, implemented by CATIE (Tropical Agricultural Research and Higher Education Center) and funded by the International Climate Initiative (IKI), presented its main results on December 6 in the state of Chiapas, Mexico, to state authorities, producer families, non-governmental organizations and academia.
The event was inaugurated by Muhammad Ibrahim, Director General of CATIE, accompanied by Zaynia Andrea Gil Vázquez, Secretary of the Ministry of Agriculture, Livestock and Fisheries (SAGyP, its Spanish acronym); María del Rosario Bonifaz Alfonzo, Secretary of the Ministry of Environment and Natural History (SEMAHN, its Spanish acronym); and Luis Morales, representing Diego Montenegro Ernst, representative of the Inter-American Institute for Cooperation on Agriculture (IICA) in Mexico.
José Antonio Jiménez, local coordinator of BioPaSOS in Chiapas, explained that the project sought sustainable management and long-term conservation of biodiversity through the promotion of agro-forestry and grazing technologies and other good livestock practices, that is to say highly productive, profitable livestock production that is in harmony with its environment.
"With BioPaSOS, we are demonstrating that sustainable livestock farming has the potential to improve the livelihoods of farming families and conserve biodiversity in agricultural landscapes," said Jiménez.
During the event, Claudia Sepúlveda, general coordinator of the BioPaSOS project, was in charge of presenting a summary of the main results of the project in the states of Jalisco, Chiapas and Campeche. She highlighted that BioPaSOS implemented an intervention model with participatory methodologies such as Field Schools, which takes into account the analysis of local problems and the construction of participatory solutions for the promotion of silvo-pastoral systems and good livestock practices from the farm level, extending it to local, national and even global scales, in order to reduce the impact on biodiversity, the impacts of climate change and support informed and timely decision making; allowing for on-farm interventions, as well as the creation of alliances with private sector actors, academia and other partners.
In the areas of intervention in Chiapas, Project BioPaSOS strengthened the capacities of technicians and 431 livestock producers through 27 field schools, impacting six municipalities where livestock farming is practiced.
In addition, with the support of local partners, we established and monitored silvo-pastoral and agro-silvopastoral plots on cattle ranches, in which the producer families have implemented good livestock practices and have seen positive results in their production and in the conservation of biodiversity.
The project also generated robust information for decision making through research on topics such as biodiversity monitoring, ecosystem services and water, silvo-pastoral practices and supplementation technologies, carbon storage, GHG emissions monitoring, among others.
During the event, the BioPaSOS project, together with SAGyP and SEMAHN, presented a jointly produced publication, which provides guidelines for promoting sustainable livestock farming in Chiapas and which will now be available for consultation at. www.biopasos.com.
Both secretariats expressed their satisfaction with the work carried out and their commitment to continue promoting livestock production in the state of Chiapas, while at the same time conserving biodiversity.
To conclude the event, Jiménez thanked all the people (especially the producer families) and institutions that in one way or another were involved in BioPaSOS, especially IKI of BMU Germany, whose generous support made the initiative possible.
The BioPaSOS project, which was implemented by CATIE since 2016, was supported by IICA, in coordination with the National Commission for Knowledge and Use of Biodiversity (CONABIO, its Spanish acronym) and the Ministry of Agriculture and Rural Development (AGRICULTURA), together with multiple local partners in their territories of intervention, in the states of Jalisco, Chiapas and Campeche.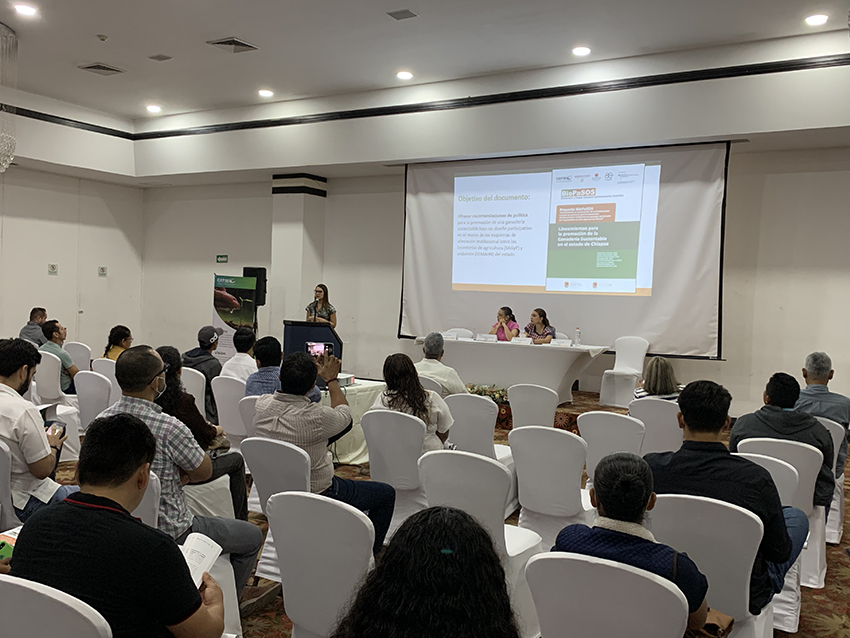 More information:
José Antonio Jiménez
Local Coordinator of BiopaSOS Project, Chiapas
CATIE
Written by:
Karla Salazar Leiva
Communications Officer
Information Technology and Communication
CATIE
(Visited 241 times, 1 visits today)