Costa Rica identifies its most relevant aquaculture and fisheries value chains in the Central and Northern Pacific
Posted by

Categories

News

Date

27 March, 2023
Through a study conducted by CATIE's sustainable agribusiness team, in consultancy for Conservation International
March 28, 2023. As part of a consultancy for Conservation International (CI), sustainable agribusiness specialists from the Environmental Economics and Sustainable Agribusiness Unit (UEAAS-EfD) of CATIE (Tropical Agricultural Research and Higher Education Center) are developing a study to identify and characterize the current main value chains of coastal fisheries and aquaculture in the Central and North Pacific.
First, a study area was defined, from Quepos (Puntarenas) to Punta Pargos (Guanacaste); then the most relevant fishing and aquaculture value chains were identified using a tool that takes into account social, commercial, productive and institutional support aspects. After applying this tool, the information obtained was shared with technicians from the Costa Rican Institute of Fisheries and Aquaculture (INCOPESCA, its Spanish acronym), in order to define the items (species) to be studied that had been detailed in the prioritization and characterization. As a result, the priority for the study was the snapper and corvina fishery species chains (including all subspecies), while in aquaculture, the species of farmed shrimp and farmed oysters were identified.
Susana Acuña, sustainable agribusiness technician at CATIE, emphasized that small-scale fishing, which involves small-scale fishermen and their families, is of utmost importance for this study. Small-scale fishing is located in coastal areas, where the fishing range should not exceed 3 miles from the coast, and also includes methods of cultivation of different marine species.
To prepare the study, UEAAS-EfD technical staff conducted field interviews with organizations (chambers, cooperatives and associations), fishermen, producers of crop species, companies and marketers to characterize the chains, see the relationships of the different actors, assess marketing aspects, and learn about the sector's limitations and opportunities. During this fieldwork, communities such as Quepos, Puntarenas, Nicoya, Jicaral, Chira Island, Venado Island, Paquera and Tambor were visited. In total, more than 20 key stakeholders were interviewed, with the participation of important associations such as the National Chamber of Producers of Farmed Shrimp and Related Products (CAPROCAM, its Spanish acronym), which groups more than 30 farmed shrimp producers, and the Association of Artisanal Panguero Fishermen of Puntarenas (ASOPPAPU), which groups about 480 fishermen.
"This fieldwork allowed us to experience the dynamics of fishing in this region of the country, where the activity has a long history and continues to represent an important source of income for local inhabitants. It also helped to identify new actors and their roles within the value chains, new technologies and products with high potential. It was also possible to see how aquaculture continues to make headway with the production of species that are attractive to the local market, but also represent an export opportunity, and how the communities alternate their activity with other services such as gastronomic tourism," said Andrea Garay, CATIE's sustainable agribusiness technician.
Finally, Anthony Gamboa, technician in sustainable agribusiness at CATIE, commented that through these actions it is possible to learn about the reality of the fishing and aquaculture sector, as well as its limitations and opportunities; aspects that are really valuable so that through projects such as this one executed by CI, lines of work can be generated that have a positive impact on the fishing communities that depend on ocean resources.
By having clear and updated information and having selected two fishing and two aquaculture value chains, it will be possible to move towards improving the marketing processes for these products, highlighting their environmental, social and economic sustainability.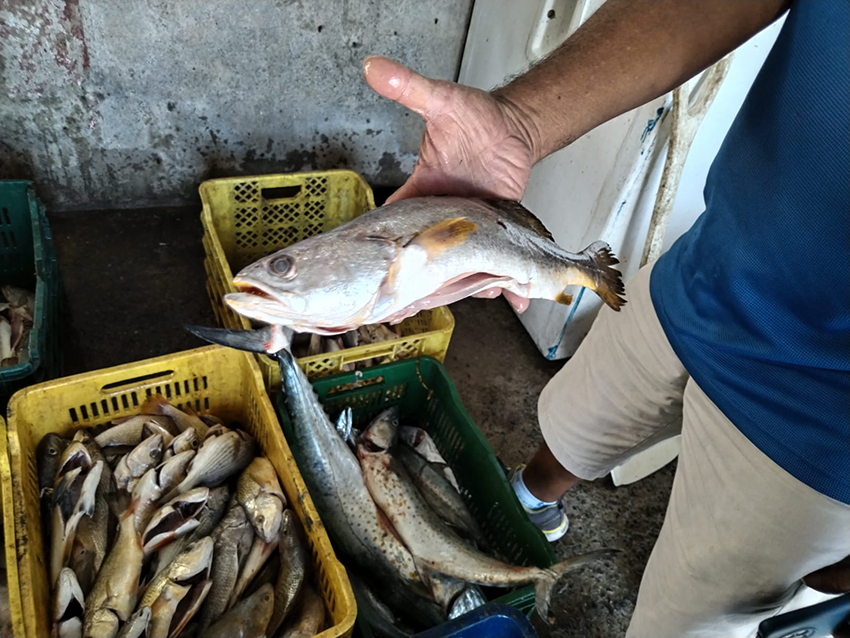 More information:
Susana Acuña
Sustainable Agribusiness Technician
UEAAS/EfD).
CATIE
Written by:
Karla Salazar Leiva
Communications Officer
Information Technology and Communication
CATIE
(Visited 299 times, 1 visits today)