CATIE and ANAGAN reaffirm commitment to continue working for resilient, low-carbon livestock farming in Panama
Posted by

Categories

News

Date

3 April, 2023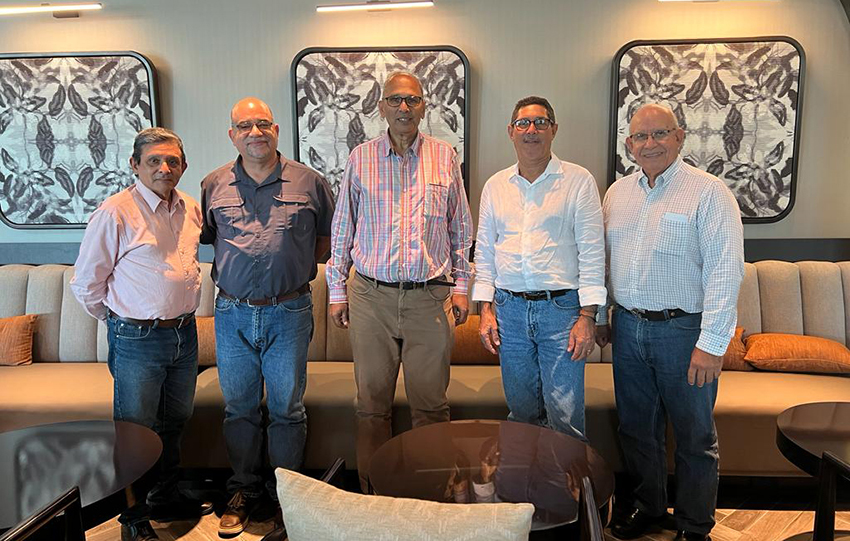 CATIE's Director General and the Center's Representative in Panama met with ANAGAN
On April 3, 2023, Muhammad Ibrahim, Director General of CATIE (Tropical Agricultural Research and Higher Education Center), accompanied by Elvin Britton, CATIE's representative in Panama, held a meeting on April 1 with members of the National Association of Panamanian Cattle Ranchers (ANAGAN, its Spanish acronym), represented by its president, Ovidio Saavedra, its executive secretary, Euclidez Díaz, and Gerardo González, an engineer from the association's environmental commission.
The president of ANAGAN explained the situation of livestock farming in the country and the efforts being made to improve business opportunities for its members and the sector in general. Similarly, ANAGAN representatives expressed their interest in continuing to work with CATIE to achieve concrete goals of technical and educational collaboration to help develop the environmental actions that they promote for the sector.
In addition, within the framework of collaboration between the two institutions, they reiterated their intention to move forward with cattle NAMA (Nationally Appropriate Mitigation Action) for the country.
Ibrahim and Britton expressed their gratitude for the meeting and ANAGAN's willingness to work. They also explained CATIE 's interest in taking concrete actions to support all these livestock sector initiatives, including the preparation of proposals for the Adaptation Fund and the GEF Fund, among others that may be identified.
Finally, Ibrahim took the opportunity to explain the progress of the INTEGRA project, which is being worked on in a regional alliance led by CATIE and which includes national partners such as ANAGAN. He also expanded on the review process being carried out by Germany's International Climate Initiative (IKI) and identified the possibility of using this project as a seed for a more comprehensive program to transform the livestock sector and thus reduce its carbon footprint, conserving biodiversity and other environmental impacts that the sector can generate.
More information/written by:
Elvin Britton
CATIE representative in Panama
(Visited 121 times, 1 visits today)