Panamanian Ministry of Environment and CATIE reaffirm interest in maintaining joint work initiatives
Posted by

Categories

News

Date

4 April, 2023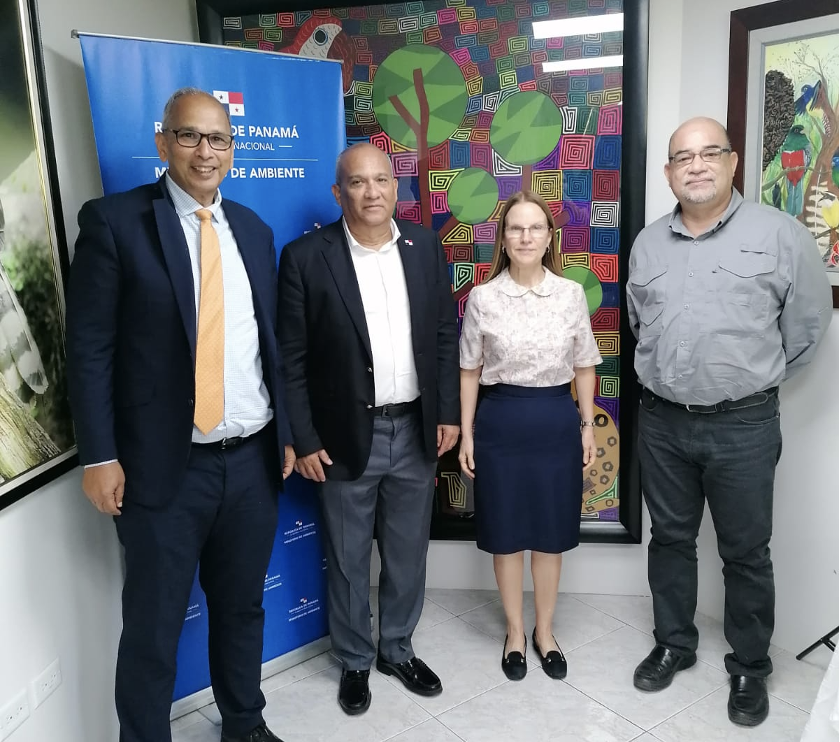 This follows a visit by CATIE's Director General to the Minister of the Environment.
April 4, 2023. Panama is a member country of CATIE (Tropical Agricultural Research and Higher Education Center) and since then has been supported by this Center in environmental issues, being one of its main partners the Ministry of Environment (MiAmbiente, its Spanish acronym). As part of this relationship, on April 3, Muhammad Ibrahim, Director General of CATIE, together with Elvin Britton, CATIE's representative in Panama, visited Milciades Concepción, Panama's Minister of the Environment, who was accompanied by Ligia Castro, MiAmbiente's Director of Climate Change.
In the framework of this visit, Ibrahim reported on the process of the project Integrating Climate Compatible Livestock into National Commitments in Central America and the Caribbean, known as INTEGRA, and the stage it is currently at.
He also mentioned the work meeting held recently with the National Association of Cattle Ranchers (ANAGAN, its Spanish acronym) and the ideas of developing projects on resilient and low-emission livestock farming, following the guidelines of important funds in which Panama participates, such as the Global Environment Facility (GEF), the Adaptation Fund and the Green Climate Fund (GCF).
Minister Concepción expressed his satisfaction with CATIE's work in Panama and the need for the Center to become an implementer of funds such as those mentioned.
For her part, Castro commented on the status of national projects with these funds, noting the need to work with low-emission livestock and other food systems to meet country goals, highlighting the role that CATIE can play given its experience and characteristics, not only in livestock, but also in key products such as coffee and cocoa. "Projects for the GEF and Adaptation Fund have regional windows where it is possible to work with CATIE in coordination with two or more countries," Castro said.
Finally, Mr. Ibrahim pointed out CATIE's efforts to attract other donors and cooperation partners to the region in the areas of water, forests and food systems. He also thanked MiAmbiente for the attention and support it has given to the presentation of the INTEGRA project proposal to the International Climate Initiative (IKI), and invited the Minister to accompany CATIE in the celebration of its 50th anniversary.
More information/written by:
Elvin Britton
CATIE representative in Panama
(Visited 130 times, 1 visits today)