50 years contributing to food systems: CATIE prepares to start its VIII Wallace Scientific Conference
Posted by

Categories

News

Date

30 May, 2023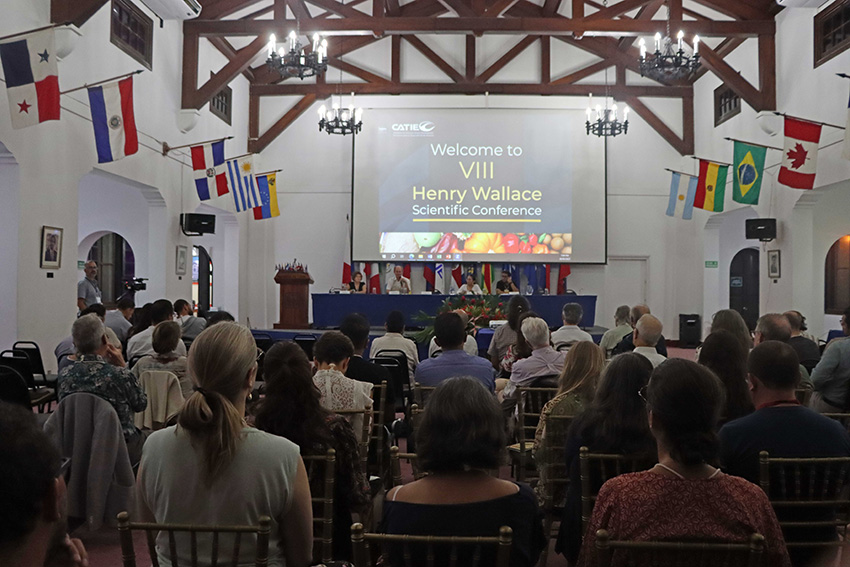 CATIE presented its work in research for the transformation of food systems, which has been one of its central axes since the institution's beginnings in 1973.
May 30, 2023. A day away from the start of the VIII edition of the Wallace Scientific Conference, its pre-opening was held this May 30 in the company of specialists from different countries in Latin America and Europe, who will be part of the conference on its way to sustainable, nutritious and healthy food systems.
Within the framework of the 50th anniversary of CATIE (Tropical Agricultural Research and Higher Education Center), the event began with a presentation by Muhammad Ibrahim, Director General of CATIE, who spoke about the Center's contribution to food systems, emphasizing the different repercussions and perspectives.
In this regard, he showed the impact of the institution's work and gave as an example the results of the Mesoamerican Agro-environmental Program (MAP), implemented in Trifinio, where a significant increase in the number of food groups consumed by households was achieved, thanks to the teaching of climate-smart agriculture practices, implemented by the producer families. Another example cited was the Scaling Adaptation Solutions for Resilience and Migration Reduction in the Central American Dry Corridor project, known as ESCALAR, funded by Sweden and recently initiated, to increase the resilience to climate change of ecologically, socially and climatically vulnerable communities in high priority areas of Guatemala, Honduras and El Salvador.
In addition, Ibrahim presented the different thematic areas of research in which CATIE works and, finally, he talked about the research needs for healthy food and diet, positive food systems for nature and less risky ones, bioscience research and modeling actions to transform food systems.
For 2023, the Wallace Scientific Conference will focus on the transformation of food systems in Latin America and the Caribbean, which will be addressed through six thematic sessions: Impacts of land and water degradation in the face of climate change; strategies and innovation pathways for climate adaptation and mitigation actions; financing, investment and agribusiness; sustainable patterns of production and consumption; equitable access to food; and governance for transformation.
To provide a complementary overview of the expected results and research support related to these topics from CATIE's different research units, a panel discussion was held with Reinhold Muschler, leader of the Agro-biodiversity and Food Security Unit, Alejandra Martínez-Salinas, leader of the Forests and Biodiversity in Productive Landscapes Unit, and Rolando Cerda, leader of the Agroforestry and Coffee and Crop Breeding Unit; Alejandra Martínez-Salinas, leader of the Forests and Biodiversity in Productive Landscapes Unit; and Rolando Cerda, leader of the Agroforestry and Genetic Improvement in Coffee and Cocoa Unit; moderated by Leida Mercado, director of the Inclusive Green Research and Development Division.
From May 31 to June 3, a total of 170 participants will meet at CATIE's central campus in Turrialba, Costa Rica, together with the results of more than 100 research papers to discuss and establish fair and healthy food systems. For more information you can access the official website: wallace.catie.ac.cr, there you can also find details about the speakers, scientific committee, among others.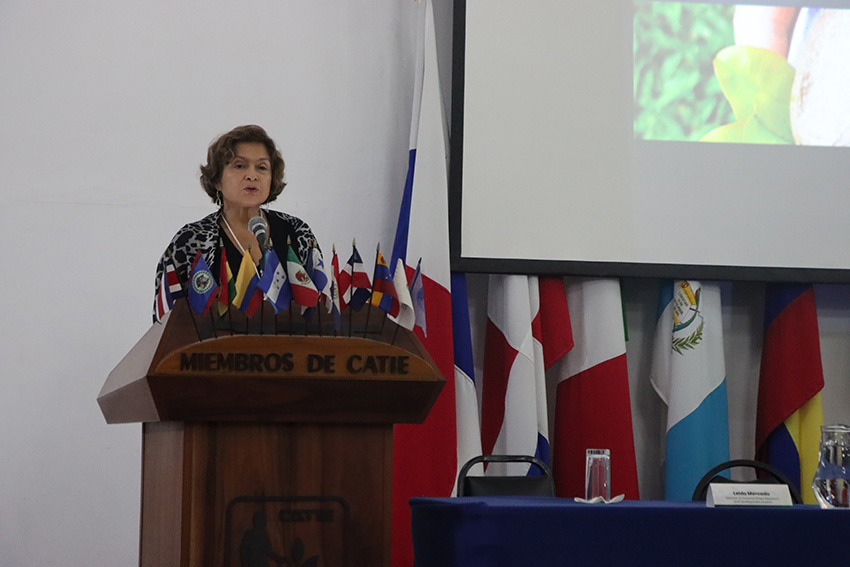 More information:
Leida Mercado
Director of Research for Inclusive Green Development
CATIE
lmercado@catie.ac.cr
(Visited 65 times, 1 visits today)