CATIE shared the impact of its work with Costa Rican deputies 
Posted by

Categories

News

Date

21 August, 2023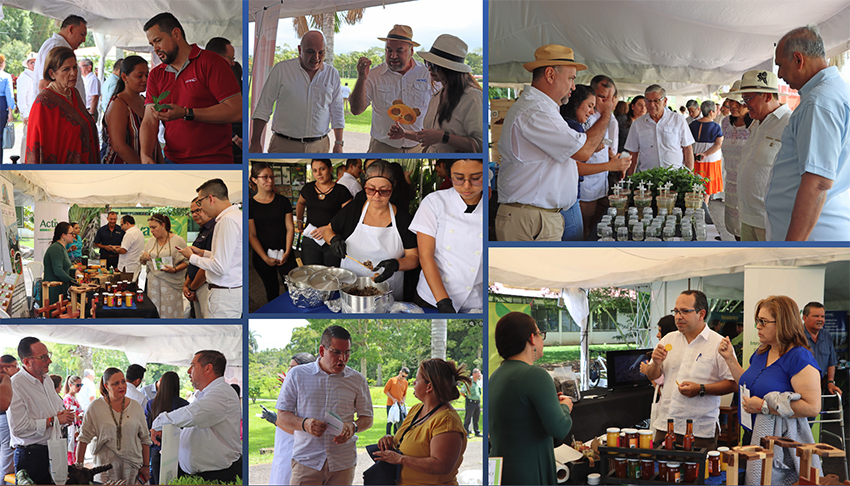 Within the framework of their solemn session in Turrialba, representatives of the Legislative Power visited CATIE's stands.
August 18, 2023. Following the solemn session of the Legislative Assembly of Costa Rica at CATIE (Tropical Agricultural Research and Higher Education Center) in Turrialba, deputies visited the stands prepared by the Center to showcase the impact of their work in sustainable, environmental, and social development, implemented across Latin America and the Caribbean for the benefit of rural populations.
The space was comprised of the institution's research units and commercial projects, where each specialist presented to the deputies the objectives, scope, and results of their work, aligned with the Sustainable Development Goals.
The first stand to welcome them was CATIE's Botanical Garden, where they were shown the diversity of flora, fauna, and exotic fruits housed and preserved by the garden, as well as its offerings and tourist attractions for nationals and foreigners.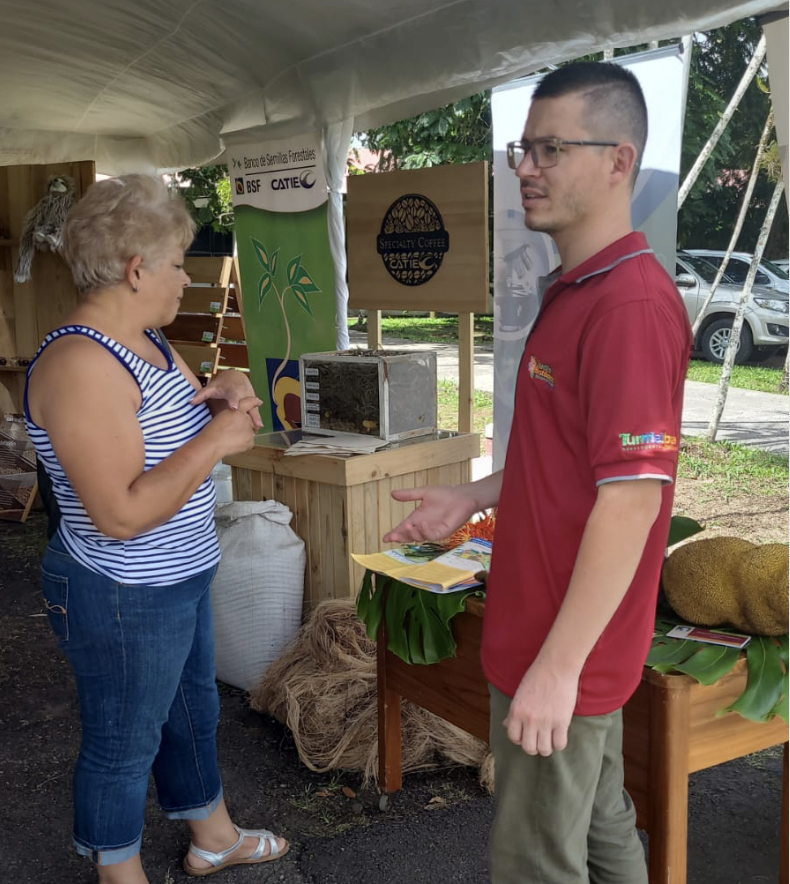 The tour continued to the Forest Seed Bank stand, where deputies learned about the task performed by this bank, one of the main providers of forest seeds in Latin America. This bank distributes seeds of native and exotic species to over 50 countries worldwide. Additionally, the work on propagating F1 hybrids, improved coffee varieties developed at CATIE through cutting rooting techniques, was showcased.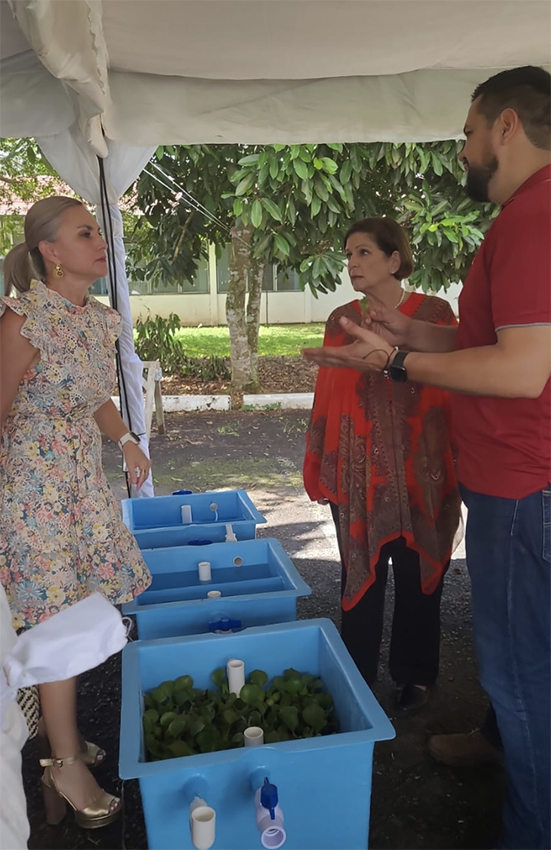 In addition to this, the beginnings of the CATIE Lake Ecological Regeneration Project were shown, in partnership with Alexandria Steam Labs and the Advanced Center for Applied Research (CAIA). Through this project, technology was designed that allows CATIE's lake ecosystem to naturally process elements affecting its biological balance, while turning it into a key axis for the sustainability of the environment.
The work of the Environmental Economics and Sustainable Agribusiness Unit (UEAAS/EFD) was then highlighted, along with its projects within the EFD Central America initiative, the collaborative SCOPE program, and its academic Master's Program in Management of Agribusiness and Sustainable Markets. Through this research unit, CATIE has contributed to economic analysis and the strengthening of agricultural value chains, and nearly 400 micro, small, and medium agricultural enterprises from 13 countries have strengthened their capabilities.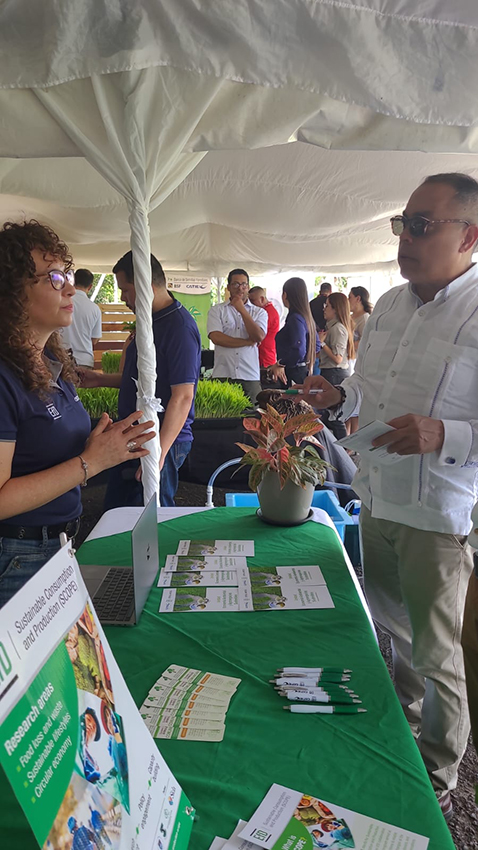 At the Forests and Biodiversity in Productive Landscapes Unit stand, CATIE's role as a prominent actor in the management, sustainable use, and conservation of tropical forests and biodiversity in Latin America and the Caribbean was showcased. It has been a pioneer in territorial management leading to the creation of the Maya Biosphere Reserve and the design of Community Forest Concessions, a globally consolidated figure in sustainable forest management. Also, the results of a recent research project that identified the role of birds and bees in coffee plantations as pollinating agents were displayed.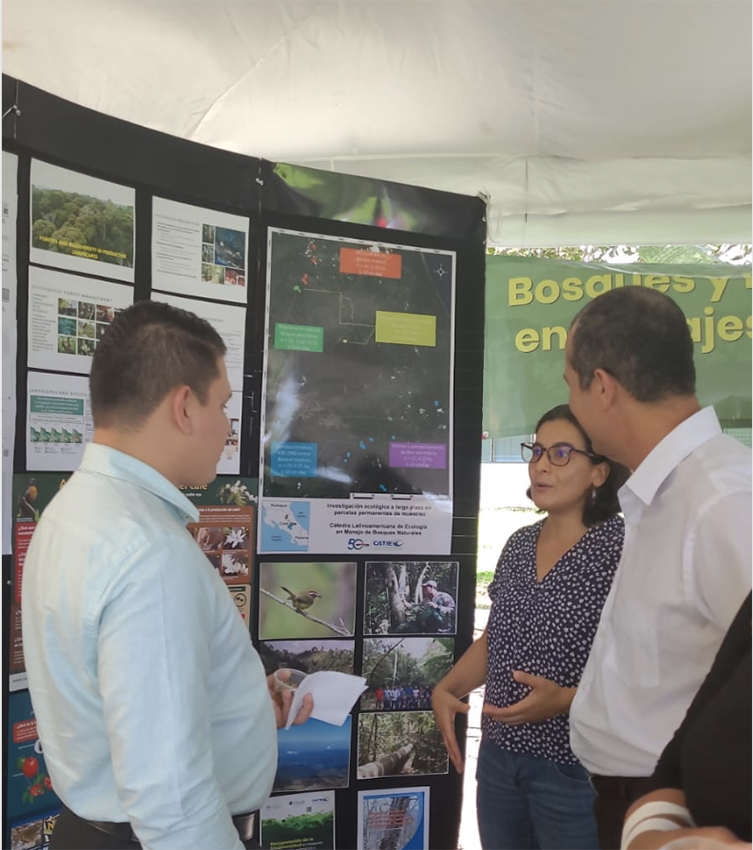 Next, the deputies reached the stand of the Agroforestry and Coffee and Cocoa Genetic Improvement Unit, learning how CATIE has contributed to the genetic improvement of coffee and cocoa, benefiting thousands of families and their organizations in Latin America. The international collections of coffee and cocoa hosted by the Center, preserving 2,000 coffee accessions and 1,250 cocoa accessions, considered public domain germplasm treasures, were highlighted.
In addition to this, the entire process of developing coffee F1 hybrids, carried out in the Biotechnology Laboratory, and already on at least 8,000 hectares of coffee plantations in the region, was explained. These materials can triple national coffee yields and are tolerant to economically important diseases (such as rust) and are characterized by their high quality.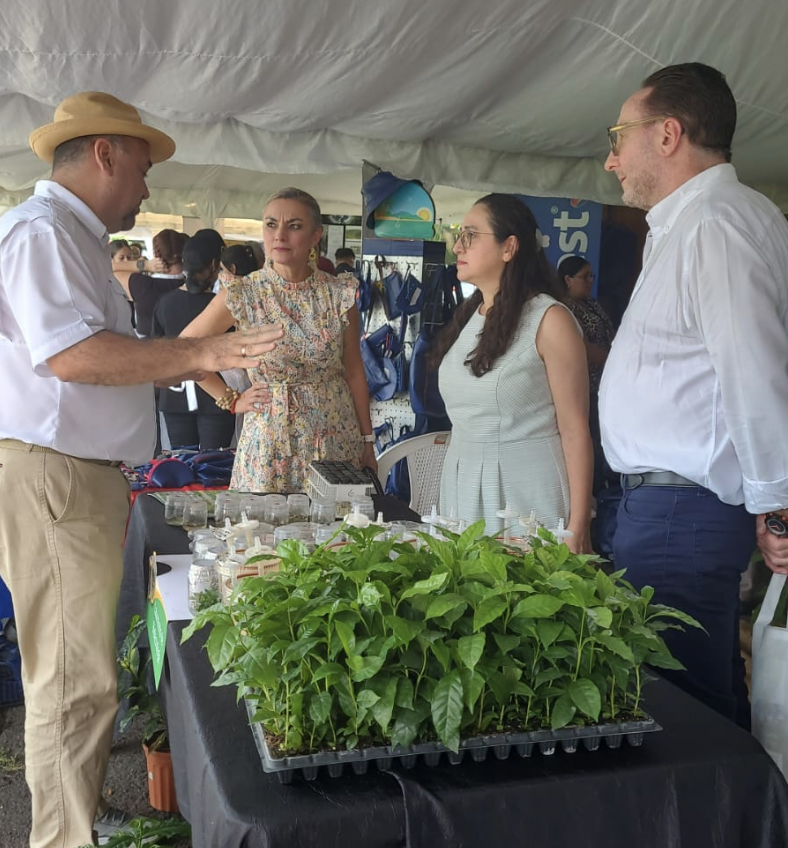 . Repurpose with Purpose project, born from a partnership between CATIE y Southwest Airlinesand Southwest Airlines, was also part of this space, teaching the products that men and women in the Turrialba area have learned to create from recycled leather of covers and plane seats.
Additionally, the work of a culinary program aimed at women from different rural areas of Turrialba was also exhibited, which seeks to steer traditional cuisine towards sustainable tourism. This program is executed in partnership between CATIE and the International Rotary Club.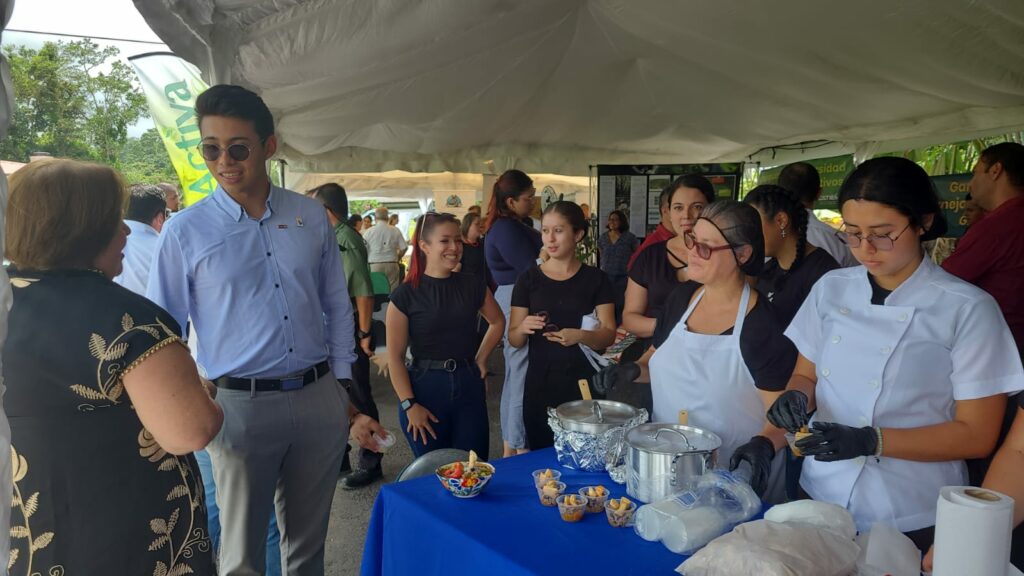 The Watersheds, Water Security, and Soils Unit presented CATIE's work in watershed management, as the institution has conducted over 400 studies whose results have been used for policy and project formulation. Highlights include the Water Harvesting project implemented in Nicaragua's Dry Corridor, which has contributed to an 83% increase in crop yields for participating farmers through the inclusion of water collection systems.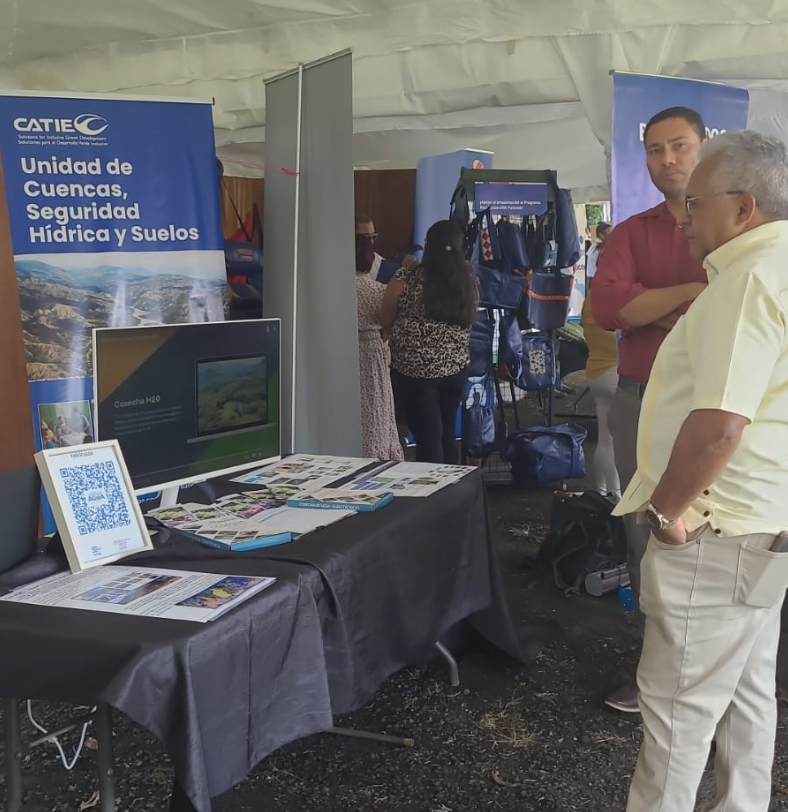 At the Livestock and Environmental Management Unit stand, details were given about CATIE's work in designing and implementing silvopastoral systems and other good management practices that have transformed traditional livestock farming into high-productivity, low-carbon, and biodiversity-friendly livestock farming in 15 countries of the region. Also, emphasis was made on how this theme has influenced public policies in at least 8 countries, implementing NAMA livestock policies and low-carbon livestock sector transformations.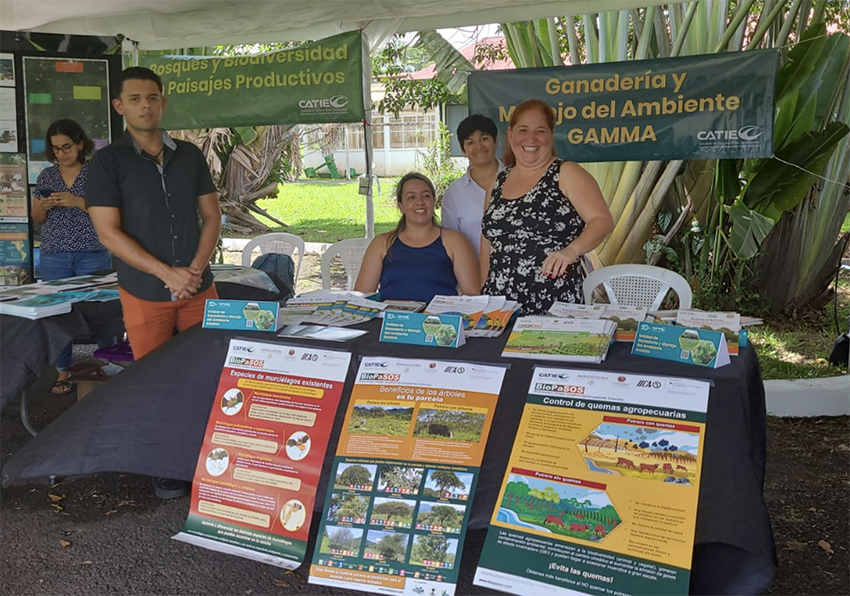 The ACTIVA-CATIE initiative was also highlighted; this is an innovation and entrepreneurship laboratory that, together with the Development Banking System (SBD) of Costa Rica, has promoted entrepreneurship and sustainable rural development. This laboratory has incubated 52 Costa Rican projects, 17 of which are led by women. Deputies conversed with the producers who have been supported by ACTIVA.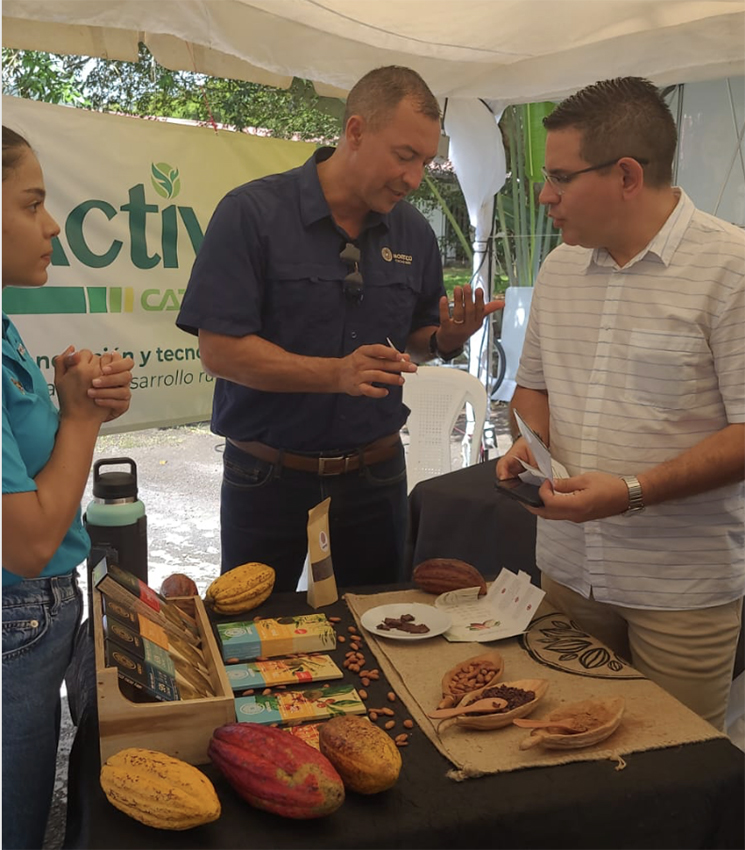 Before concluding the tour, they visited the stand of the Agrobiodiversity and Food Security Unit, where actions carried out by CATIE in favor of food security were discussed, executing research and development projects that promote agroforestry systems, regenerative agriculture, and regenerative food businesses.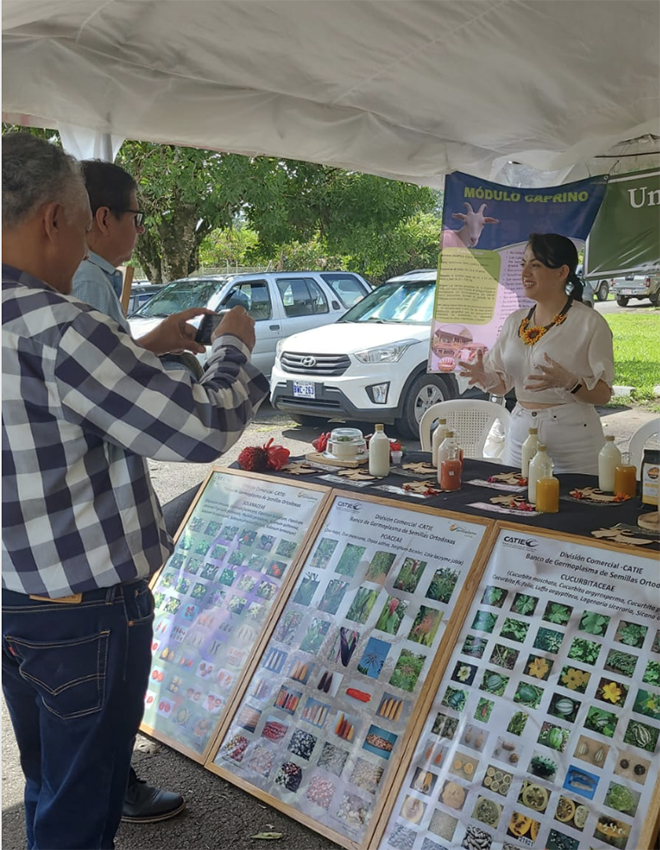 Finally, the tour ended at the Germplasm Bank stand, where over 6,000 seeds of crops of great value for global food security are preserved.
This space allowed CATIE to share and exchange knowledge, ideas, and tools that foster Inclusive Green Development with decision-makers, thus seeking to build more resilient and equitable communities.
More information:
Leida Mercado
Director
Research for Inclusive Green Development
CATIE
Carlos Araya
Director of Business Development and Mobilization of Resources and Strategic Alliances
Carlos.araya@catie.ac.cr
(Visited 127 times, 1 visits today)