CATIE leads the scaling of water harvesting practices as a climate adaptation measure for agriculture in the Central American Dry Corridor
Posted by

Categories

News

Date

7 September, 2023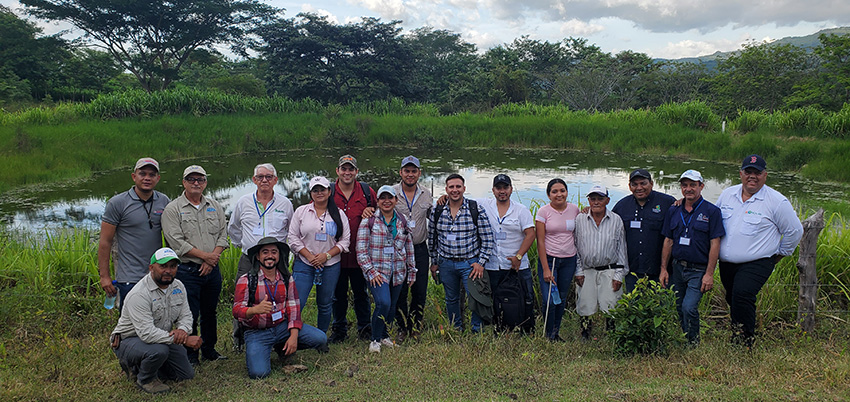 The Water Harvest project, implemented in Nicaragua with funds from Swiss Cooperation, and the ESCALAR project, working in municipalities of the Dry Corridor in El Salvador, Guatemala, and Honduras with support from Swedish Cooperation, carry out actions for the scaling of water harvesting technologies for resilience and adaptation to climate change for agricultural purposes.
September 6, 2023. Since June of this year, Water Harvest and ESCALAR have been developing a phase of knowledge exchange aimed at scaling technologies on water harvesting as a climate adaptation measure for agriculture. To date, six emblematic works have been established (two per country) in El Salvador, Guatemala, and Honduras, which will serve as examples of these types of systems and their use in the Central American region.
In San Francisco de las Piedras, a community in the municipality of Metapán, El Salvador, Damaris Castaneda benefited from a runoff water catchment work that has a capacity of 1,400 m³, a Zamorano-type tank for rainwater catchment from roofs, and can store up to 10 m³ of rainwater.
"We are happy with this project, we know we will no longer suffer from water shortages like in past years, neither our family nor our animals. We see that this is a reality and we are very happy as a family to know that we will receive visits from those wishing to learn from our process," shared Damaris.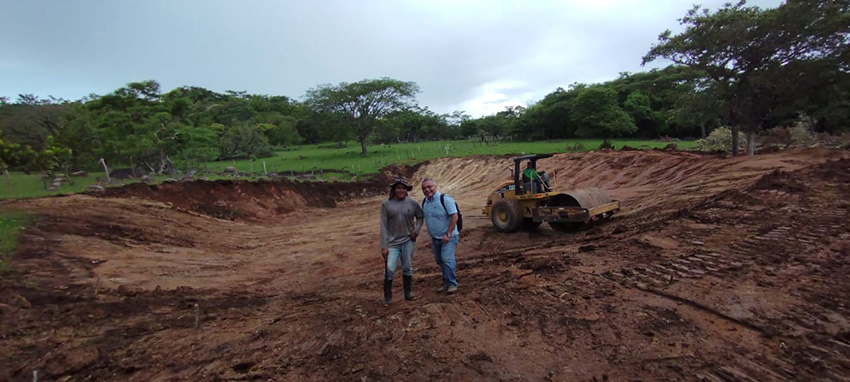 | | |
| --- | --- |
| Runoff Water Harvesting work in Metapán, completed. | Damaris happily showing that her Zamorano tank is full. |
Other works were built in Suchitán, a community in Santa Catarina Mita of the Jutiapa department, in Guatemala, and in Honduras, in the Ocotepeque department in the Gualtaya and La Labor communities.
"These actions are life-changing," said Jorge Gómez, beneficiary of the water harvest by runoff in Gualtaya, Honduras.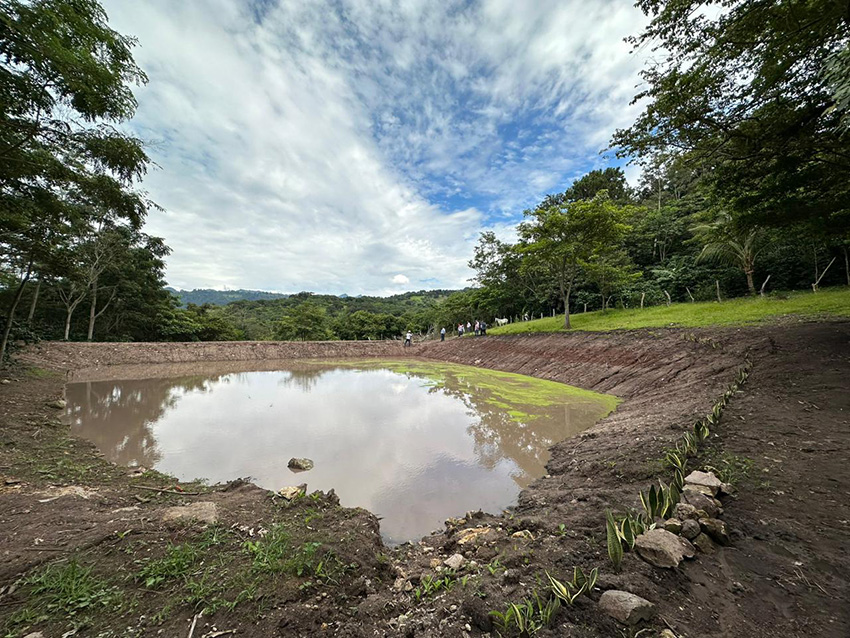 | | |
| --- | --- |
| Runoff Water Harvesting work in Gualtaya, Honduras, completed and operational. | Jorge Gómez, farm owner in Gualtaya, Honduras, receiving a rain gauge. |
Continuing the exchange process between the two projects, from July 25 to 28, the international tour was successfully carried out, with 21 officials from various organizations participating, with which the ESCALAR project works, in Nicaragua, to learn about the experiences of 11 producing families from the departments of Madríz and Estelí, who are part of the learning routes promoted by the Water Harvest project.
"I thought we did the same in Guatemala with the Zamorano tanks. However, I see that this process is not just the delivery of infrastructure but a dynamic process that requires continuity and periodic training. It's very important to see how the producers understand and manage water, plan its use, and thus grasp the responsibility it entails," mentioned Freddy Díaz, consultant for the Trinational Plan Trifinio Commission.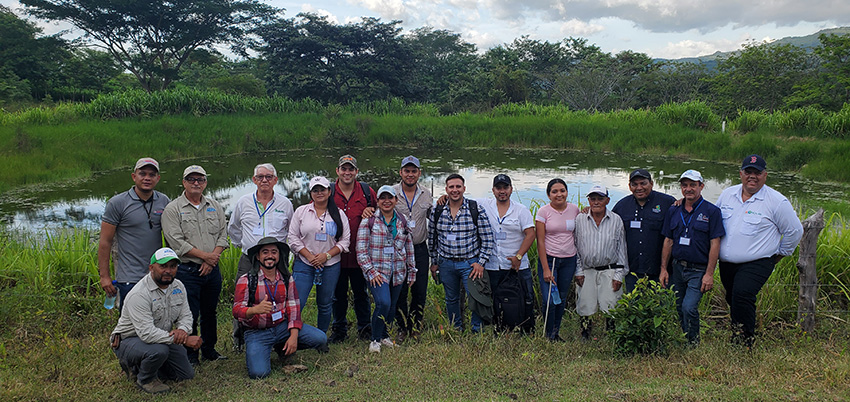 Officials from partner organizations implementing the ESCALAR project on an experience exchange tour in Nicaragua.
To conclude the series of activities between Water Harvest and ESCALAR, from August 28 to 30, the Trinational Workshop: Selection of Sites, Design, and Construction of Natural Runoff Water Harvesting Systems was held in La Labor, Honduras. 15 people with technical positions in partner organizations working with ESCALAR in El Salvador, Guatemala, and Honduras attended., a donde asistieron 15 personas con cargos técnicos en las organizaciones socias que trabajan con ESCALAR en El Salvador, Guatemala y Honduras.
It is worth noting that those who attended this workshop had been on the learning exchange tour in Nicaragua. In this last face-to-face workshop, they addressed topics such as the construction and maintenance of the hydraulic siphon, site selection, and data collection using optical levels for runoff work design.
"This collaboration between CATIE projects has allowed both theoretically and practically to take advantage of the installed capacities and the experience of a project with a history of more than five years in the field, such as Water Harvest in Nicaragua, where agroclimatic conditions are similar to the Trifinio region. This facilitates the construction and scaling process of this agricultural innovation for adaptation to climate change, avoiding mistakes and emphasizing the importance of strengthening the capabilities of the technical staff of partner implementing organizations of ESCALAR," reflected José Gabriel Suchini, specialist in Agroforestry Systems and Bio-inputs of the ESCALAR project.
Ángel Espina, technician of the same project, highlighted the importance of going to the field to learn from a project that has been refining a topic for years and having support in the critical tasks of the process at a technical level.
"It has been enriching to work with the people of the Trifinio region. We have been accompanied by about eight organizations and key players, with whom we are promoting the scaling of water harvesting technologies to another level," emphasized Pedro Pablo Orozco, responsible for Knowledge Management for the Water Harvest project in Nicaragua.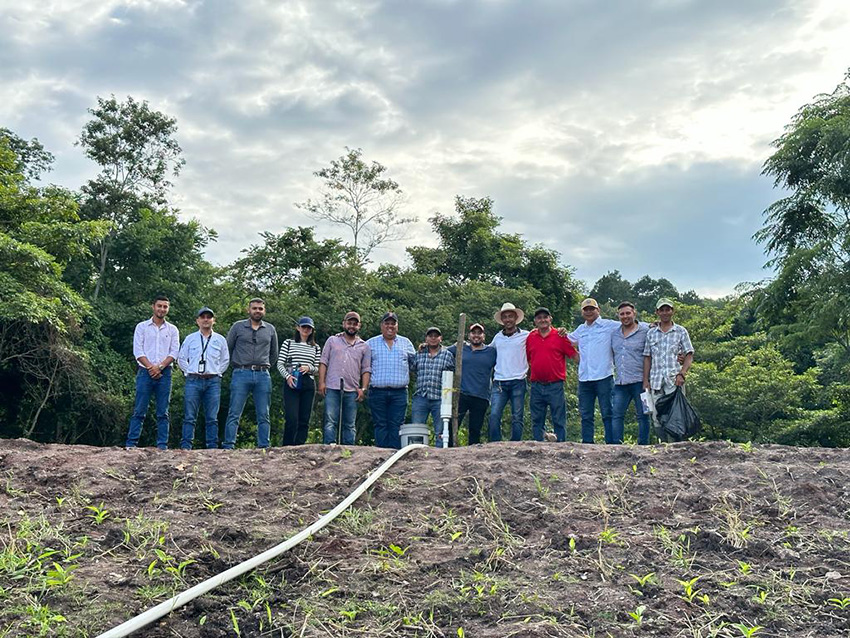 Trinational workshop, Honduras, August 2023.
Check out the video documenting the learning exchange tour on our YouTube channel https://youtu.be/fP5tB6PM8KQ?si=3k8Dwui8XaJaev1I
Para conocer más del tema puedes visitar https://cosechadeagua.org/
(Visited 149 times, 1 visits today)