Advances in the construction of a financial incentive mechanism for sustainable livestock farming in Chiapas
Posted by

Categories

News

Date

27 June, 2022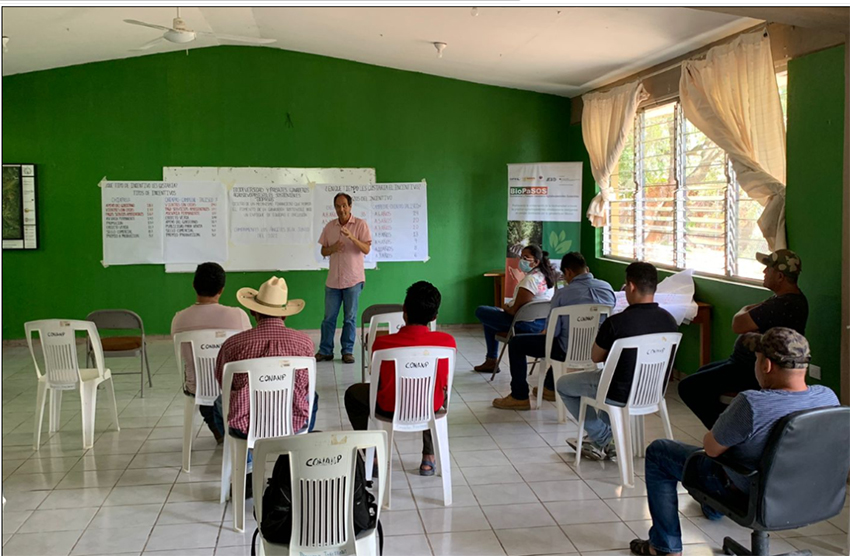 Through a workshop organized by the BioPaSOS project, producers, technicians and financial specialists validated and provided feedback on the mechanism.
June 27, 2022. Within the framework of the Biodiversity and Sustainable Agro-silvopastoral Livestock Landscapes project, known as BioPaSOS, efforts are being made to build a financial incentive mechanism, in alliance with public and private sector actors, for the conversion of extensive livestock farming into sustainable livestock farming, which in addition to maintaining or increasing productivity, has a greater capacity to adapt to climate change, reduce greenhouse gas (GHG) emissions and conserve biodiversity.
On June 16 and 17, workshops were held at the Los Angeles Camp and the Regional Operating Center, both in the La Sepultura Biosphere Reserve of the Natural Protected Areas Commission (REBISE-CONANP), in the Mexican state of Chiapas, to design a financial mechanism to promote sustainable livestock farming, with a focus on equity and inclusion.
In addition, during the workshops, feedback and validation was sought from livestock producers and financial experts in Chiapas regarding the financial incentive mechanism. Meetings were also held with financial experts from Credi Capital, a company that offers financial services to the agricultural sector in Chiapas.
The workshops were given by Luis León, an expert in financial mechanisms, and José Antonio Jiménez, local coordinator of BioPaSOS in Chiapas, together with REBISE-CONANP staff and producers from the community of Los Ángeles.
León commented that the workshop provided an opportunity to learn the perspective of all the participants on the financial mechanism generated, called green credit.
Livestock producers highlighted the fact that their opinion was taken into account to validate the financial incentive mechanism, so that more producers will convert or develop their livestock farming under a sustainable approach.
Héctor Carrillo and Visir Gutiérrez, both sustainable livestock producers, commented that the mechanism generated through these workshops includes components that can contribute and facilitate more producers' access to green credit, and thus develop sustainable livestock farming. They also said that technical support is a very important component, which helps them to feel supported by experts and to make better decisions on their ranches.
El coordinador local del proyecto BioPaSOS en Chiapas cerró el taller agradeciendo a los participantes y mencionando que la expectativa es que este crédito verde promueva y desarrolle la ganadería climáticamente inteligente en el estado chiapaneco.
BioPaSOS is implemented by CATIE (Tropical Agricultural Research and Higher Education Center), with the support of the Inter-American Institute for Cooperation on Agriculture (IICA), in coordination with the National Commission for the Knowledge and Use of Biodiversity (CONABIO) and the Ministry of Agriculture and Rural Development (AGRICULTURA), with funding from the International Climate Initiative (IKI) and together with multiple local partners in their territories of intervention.
More information/written by:
José Antonio Jiménez
Local Coordinator, Chiapas
Biodiversity and Sustainable Agro-silvopastoral Landscapes, -
CATIE
(Visited 161 times, 1 visits today)