CATIE joins organizations such as the Gates Foundation and the University of Oxford to address food security at COP27
Posted by

Categories

News

Date

11 November, 2022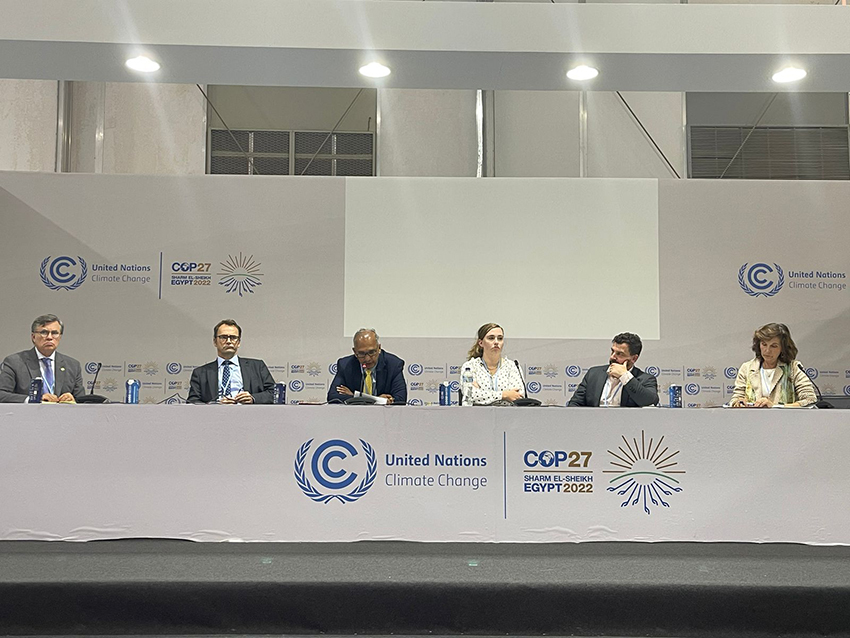 The panel was held this Friday, November 11, 2022, and brought together stakeholders to strengthen collaborative pathways in the field of science to transform food systems in the face of a rapidly changing climate.
November 11, 2022. As part of the United Nations Conference on Climate Change 2022 (COP27), CATIE (Tropical Agricultural Research and Higher Education Center) was invited to participate in the panel discussion organized by the Columbia Climate School: " Putting food on the table during a climate crisis", to talk about the efforts of science in transforming food systems in the face of the current climate challenges that the planet is experiencing.
During the session, the director general of CATIE, Muhammad Ibrahim, was part of the group of specialists along with representatives from the University of Oxford, the World Food Prize Foundation, the Gates Foundation, the Massachusetts Institute of Technology, Clim-Eat and the Inter-American Institute of Cooperation for Agriculture (IICA).
In his presentation, Ibrahim highlighted the role of science in the fragmentation of information for decision-making and in increasing food productivity, incorporating mitigation and adaptation to climate change; "CATIE is working with local producers in the territories to promote the transformation of agri-food systems and internalize the ecosystem services that generate positive externalities," he indicated.
As part of the urgent needs in the face of the climate crisis, agri-food systems and research must respond to the need of the planet to have nutritious and sustainable food on the tables of the entire population. Therefore, a good part of CATIE's work has focused on developing and promoting transformation strategies from agricultural farms, while promoting solutions based on nature to reduce the impacts of climate change, as well as strengthening the production of healthy food and the socioeconomic well-being of societies.
The panel had a live broadcast, which you can revisit click through the official COP27 channel on YouTube.
More information:
Muhammad Ibrahim
Director General of CATIE
(Visited 145 times, 1 visits today)
Tag:alimentos, cambio climático, CATIE, COP, Egipto, Gates Foundation, IICA, Naciones Unidas, nutrición, Oxford, salud, seguridad alimentaria, sostenibilidad